This colorful salad features a delicious mixture of leafy greens, blackberries, blueberries, apples, and walnuts!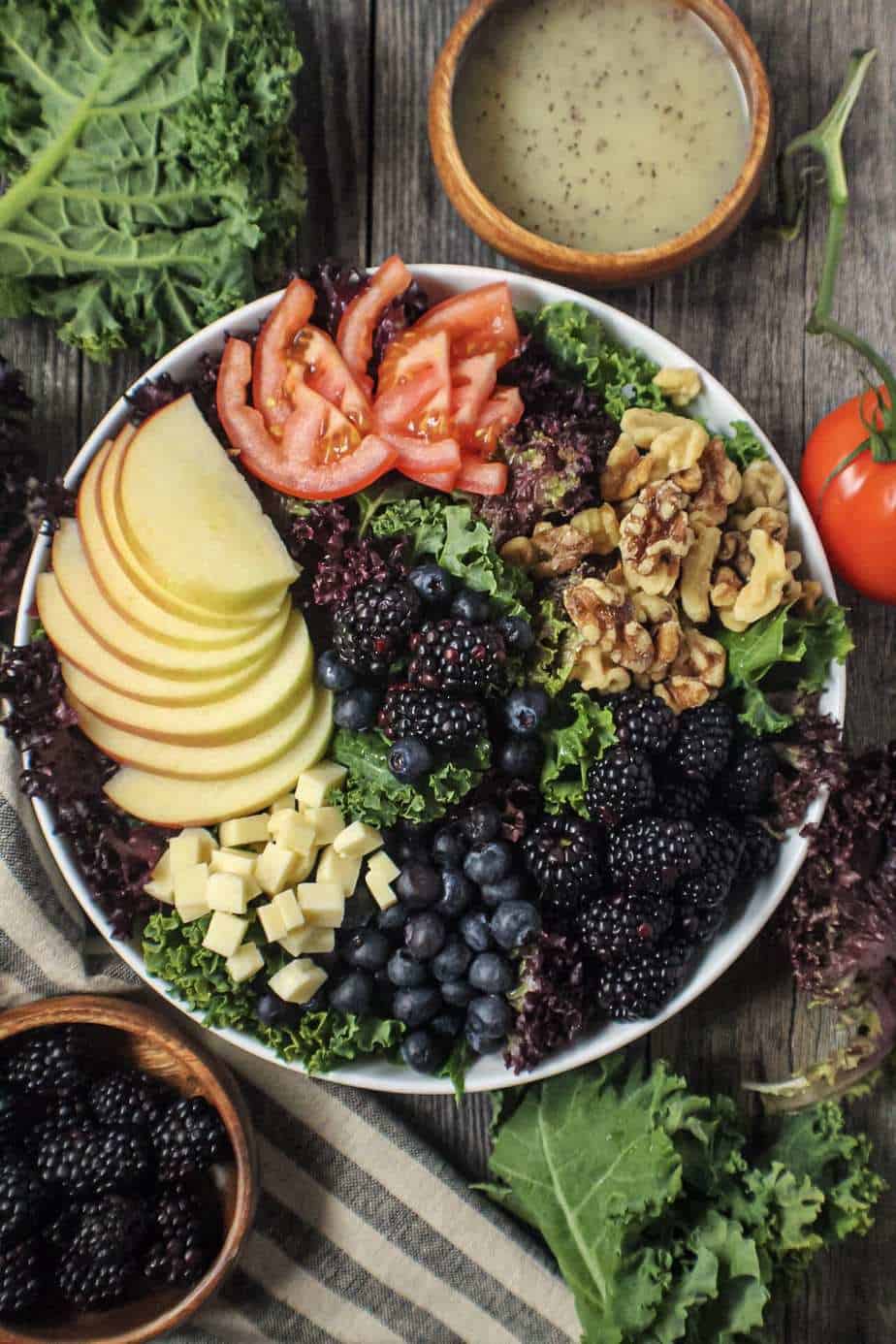 Salads are great because they are so versatile and any mix of fruits, veggies, and proteins can be incorporated according to what you prefer. For this salad, we use a delicious mix of kale, red leaf lettuce, blackberries, blueberries, apples, and walnuts. This salad is packed with nutrients and antioxidants that your body craves while also delivering on incredible flavor!
Jump to: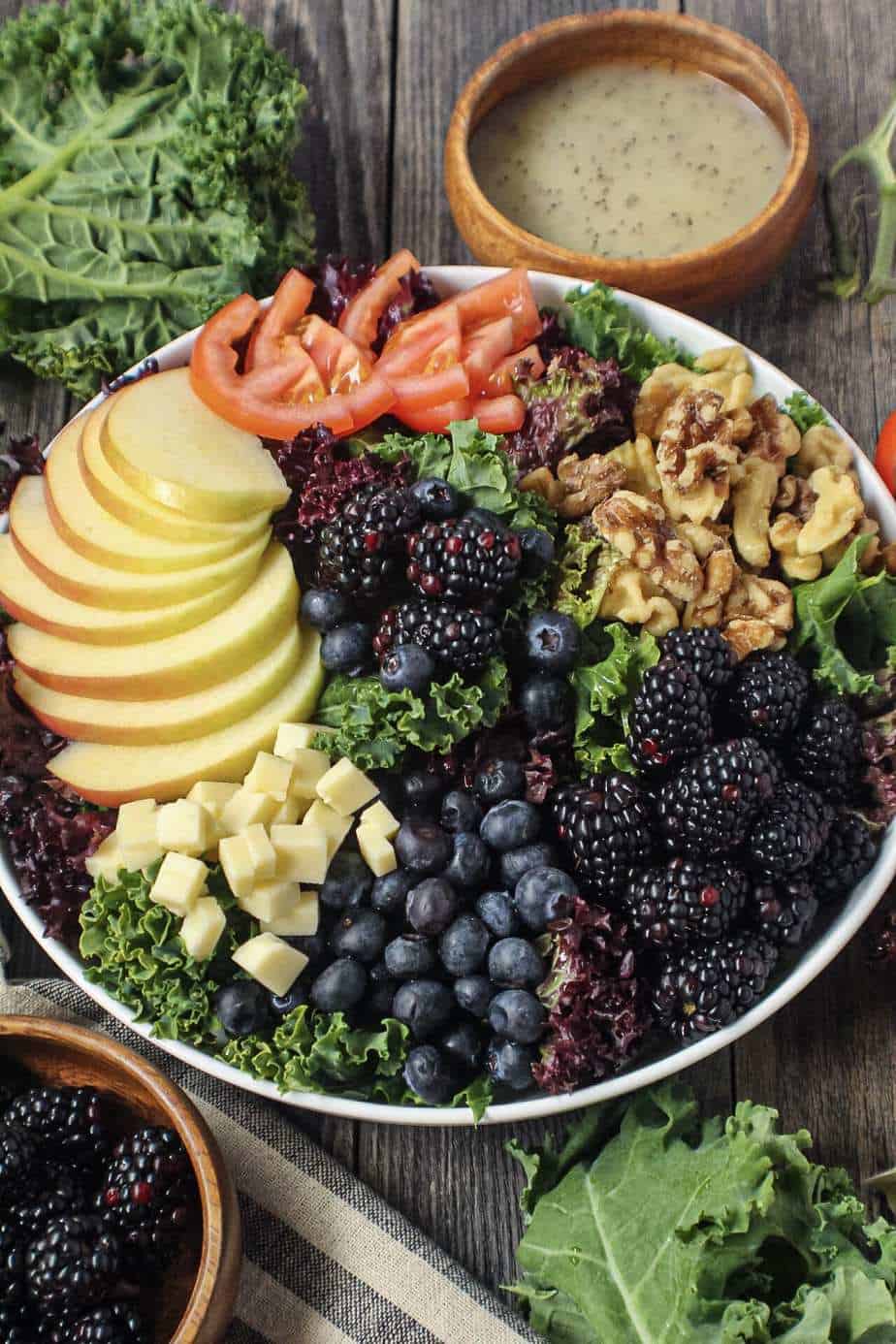 Which Lettuces Should I Use?
As I mentioned, this salad features a wonderful mix of kale and curly red leaf lettuces. I love the way the leaves of these varieties of greens catch the salad dressing and toppings. These two varieties are also packed with vitamins and minerals.
You may certainly swap out any variety of leafy green that you prefer in your salad, however. Just keep in mind that the darker the greens, the more nutrients they contain. Some lighter green lettuces such as iceberg are made up mostly of water and have nearly no nutritional value. Some other leafy greens that would be great in this salad are spinach, arugula, green leaf lettuce, radicchio, and watercress.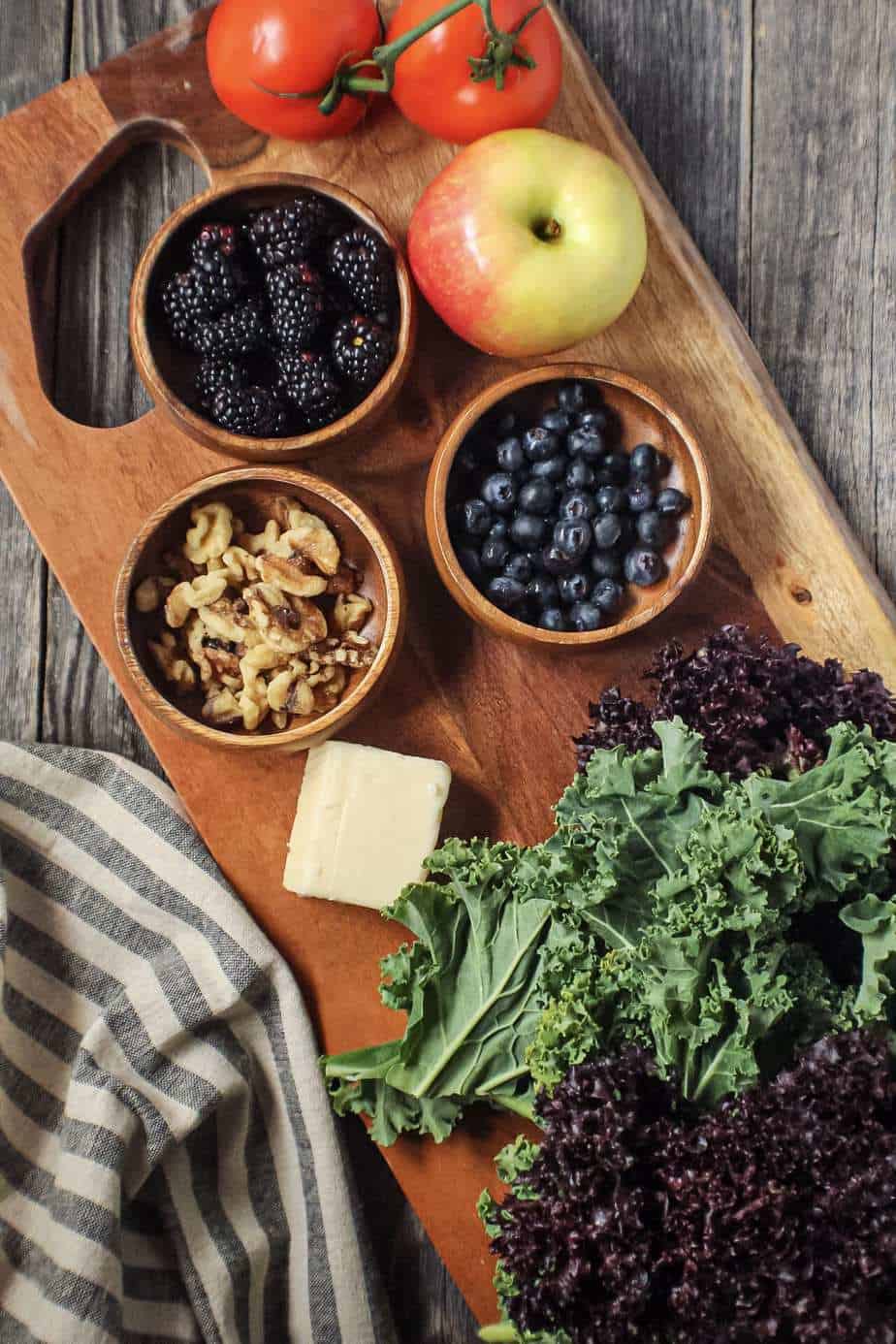 Can I Use Different Berries?
Absolutely! I used blackberries and blueberries for this salad as that is what I had on hand. However, feel free to substitute or add any other berry variety you prefer. Some berry recommendations that I think would be delicious in this Apple Berry Walnut Salad are strawberries, raspberries, cranberries, huckleberries, or grapes.
What Apple Varieties are Best for This Salad?
I use Honeycrisp apples for this particular salad as I love the texture and sweetness of these apples. You may use any variety of apple you prefer, however. I do prefer a more crisp apple for a salad as I think they provide great texture. Some of my recommendations would be granny smith, gala, Macintosh, pink lady, and golden delicious apples.
It is totally up to you whether you dice or slice your apples for this salad. I sliced my apples for presentation purposes and I typically cut and mix everything together when ready to eat.
Do I Have to Use Walnuts?
Not at all! Walnuts happened to be what I had on hand but just about any type of nut would work beautifully in this salad. Some of my recommendations would be pecans, almonds, pistachios, cashews or hazelnuts.
Seeds also make great salad toppings and provide a wonderful crunch element just like nuts. Sunflower seeds, pumpkin seeds, hemp seeds, sesame seeds, and chia seeds are all great salad additions!
What Other Toppings Can I Add or Substitute In This Salad
For this Apple Berry Walnut Salad, I also add fresh sliced vine tomatoes and cubed cheese. You may use Roma, grape, cherry, heirloom, or any other variety of tomato you prefer. You may leave small tomatoes such as grape and cherry tomatoes whole. I recommend slicing or cubing larger tomatoes.
Cheese is a wonderful element to add to salads as it provides an additional layer of flavor ad texture to the salad. I used cubed sharp white cheddar for this salad but you may substitute any variety of cheese you prefer. Some of my favorites are blue, gouda, parmesan, goat, and mozzarella cheeses. Feel free to use cubed, shredded, or crumbled cheese.
Some other topping recommendations for this salad are sliced red onion, olives, dried fruit, tortilla or pita strips, or croutons!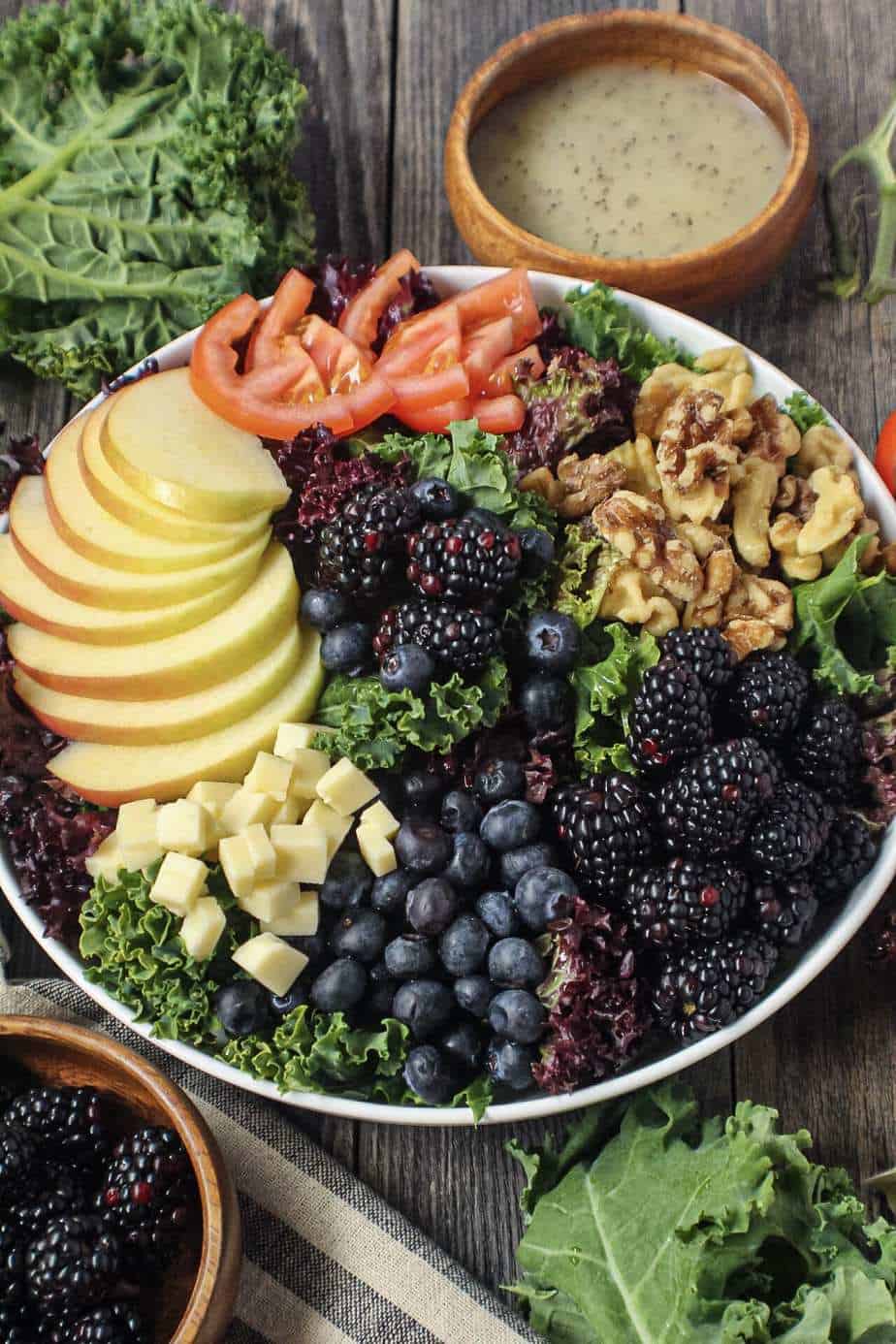 What About Salad Dressing?
I'm always partial to a good vinaigrette as they aren't too heavy and provide essential healthy fats from the olive oil. I chose a poppy seed vinaigrette to dress this Apple Berry Walnut Salad and the flavors were incredible together! Some other salad dressing recommendations for this salad are balsamic vinaigrette, red wine vinaigrette, raspberry vinaigrette, apple vinaigrette or Italian dressing.
Feel free to experiment with any type of salad dressing! I would recommend placing the dressing on the side and dipping a forkful or salad into the dressing if you aren't totally sure you'd like it.
What Protein Can I Add to This Salad?
The possibilities here are truly endless! I love a delicious piece of grilled or seared salmon on this salad as it pairs perfectly with the lettuces and toppings. Some other protein suggestions are grilled chicken, sautéed shrimp, tofu, chickpeas, black beans or sliced boiled eggs.
This Apple Berry Walnut Salad truly is a blank canvas to which you can add a variety of different toppings according to your preferences. Feel free to let your imagination run wild and experiment with different lettuces and toppings and be sure to let me know your creations turn out in the comments!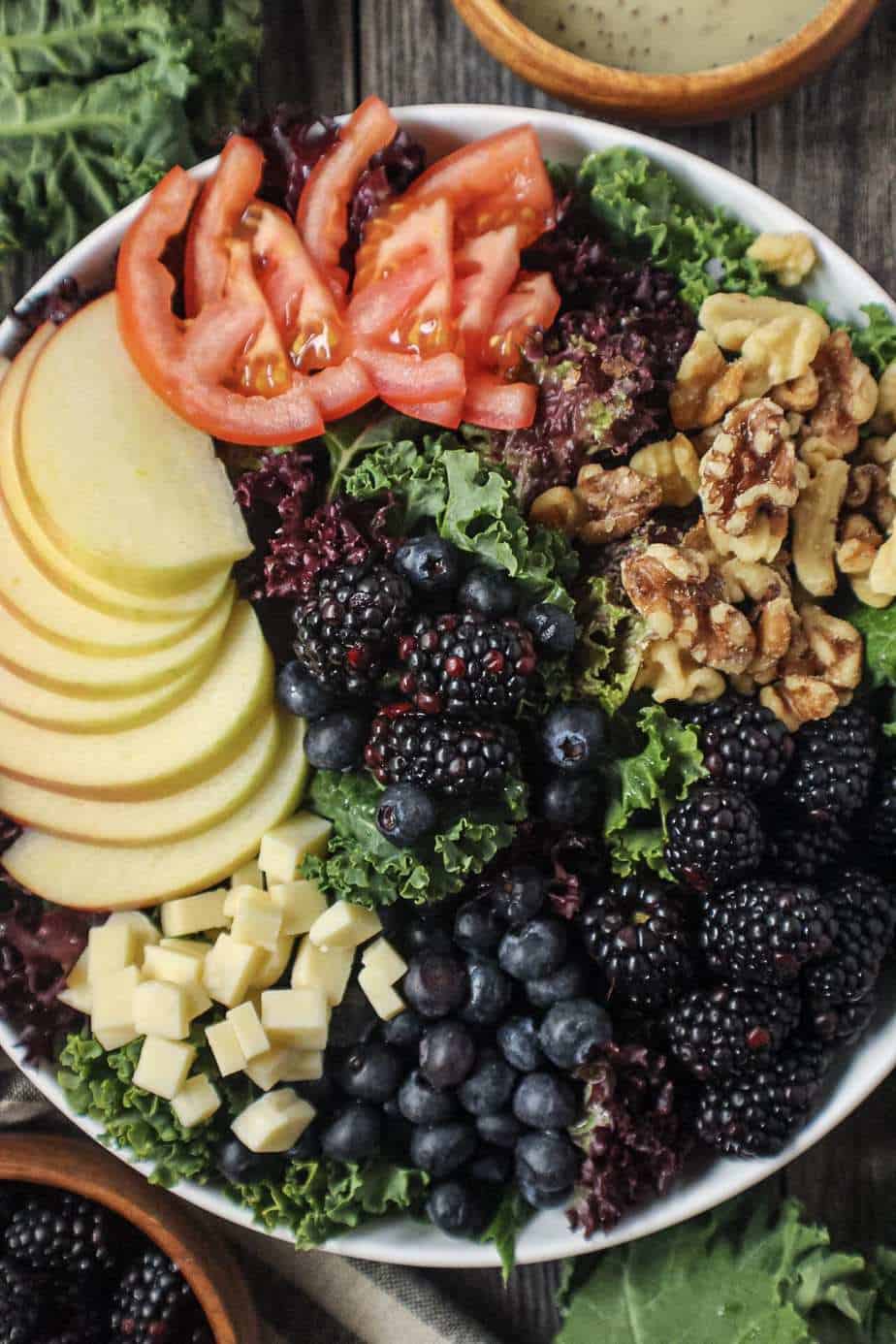 You Will Also Love This Southern Green Shakshuka Recipe!
📖 Recipe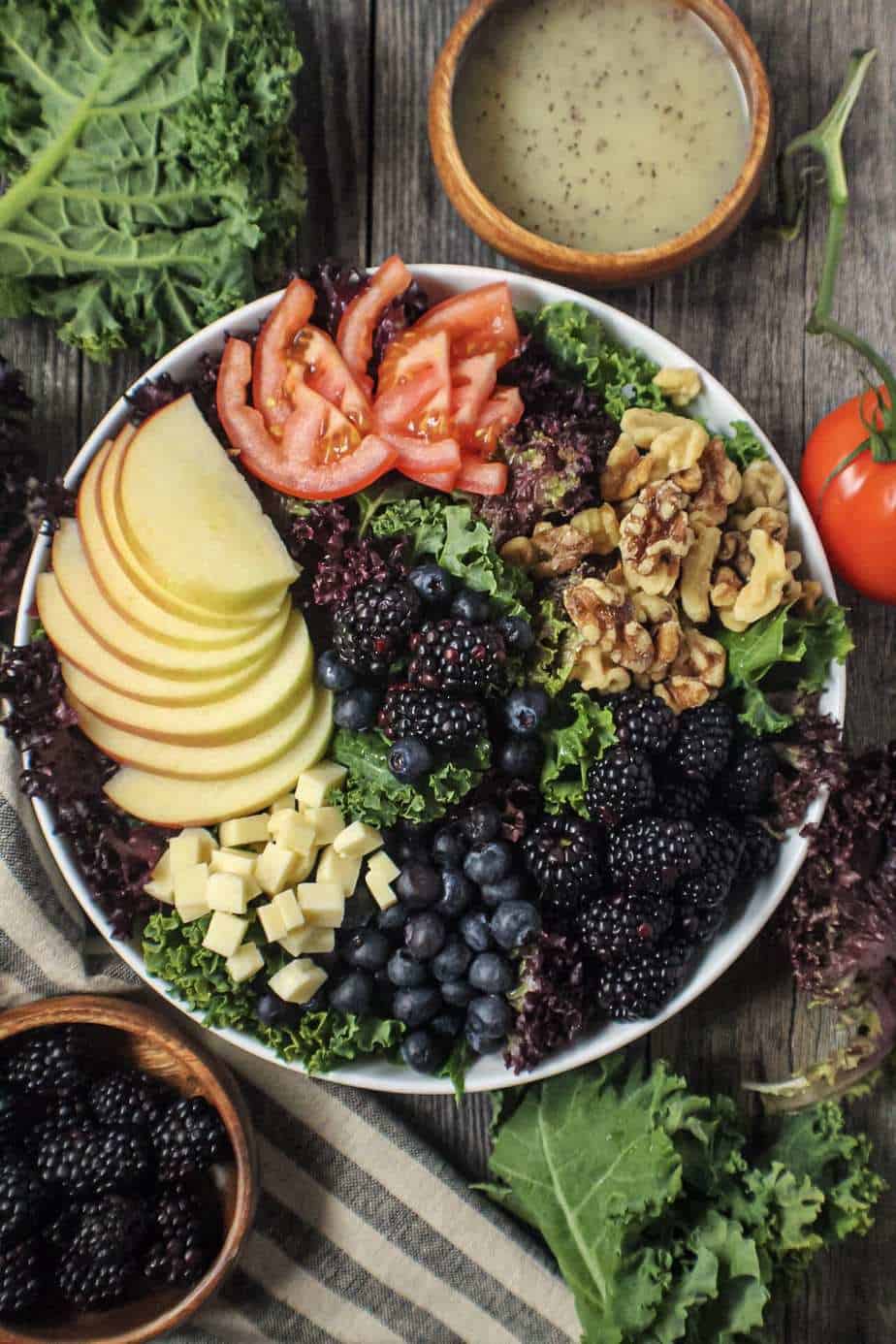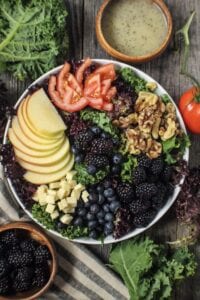 Apple Berry Walnut Salad
This colorful salad features a delicious mixture of leafy greens, blackberries, blueberries, apples and walnuts!
Ingredients
1

small head of kale

rinsed and trimmed, you will not use entire head

1

small head or curly red leaf lettuce

rinsed and trimmed, you will not use entire head

1

cup

fresh blueberries

1

cup

fresh blackberries

1

large honeycrisp apple

rinsed and sliced

1

medium-sized vine tomato

rinsed and sliced

½

cup

walnuts halves and pieces

½

cup

sharp white cheddar cheese

cut into small cubes
Instructions
Place two large bowls on counter or work space. Fill each with an even amount of both lettuces, leaving room for toppings.

Top each bowl of lettuce evenly with blueberries, blackberries, apples, walnuts and cheese, neatly arranging each topping in a section of the bowl.

Either top salad with dressing of choice or place dressing in a container on the side. Enjoy!
Notes
Please see recipe blog post for a detailed list of substitution options.
Nutrition
Serving:
1
Salad
Calories:
453
kcal
Carbohydrates:
34.7
g
Protein:
20.8
g
Fat:
28.4
g
Cholesterol:
30
mg
Potassium:
1173
mg
Fiber:
11
g
Calcium:
3
mg
Iron:
5
mg
Tried this recipe?
Tag @thepinkowlkitchen on Instagram! And don't forget to leave a ⭐️⭐️⭐️⭐️⭐️ rating and review!