Take your homemade pizza game to the next level by cooking it up in a cast-iron skillet. The crust gets extra crispy by using high heat. Add fun, creative toppings for the best homemade pizza recipe ever!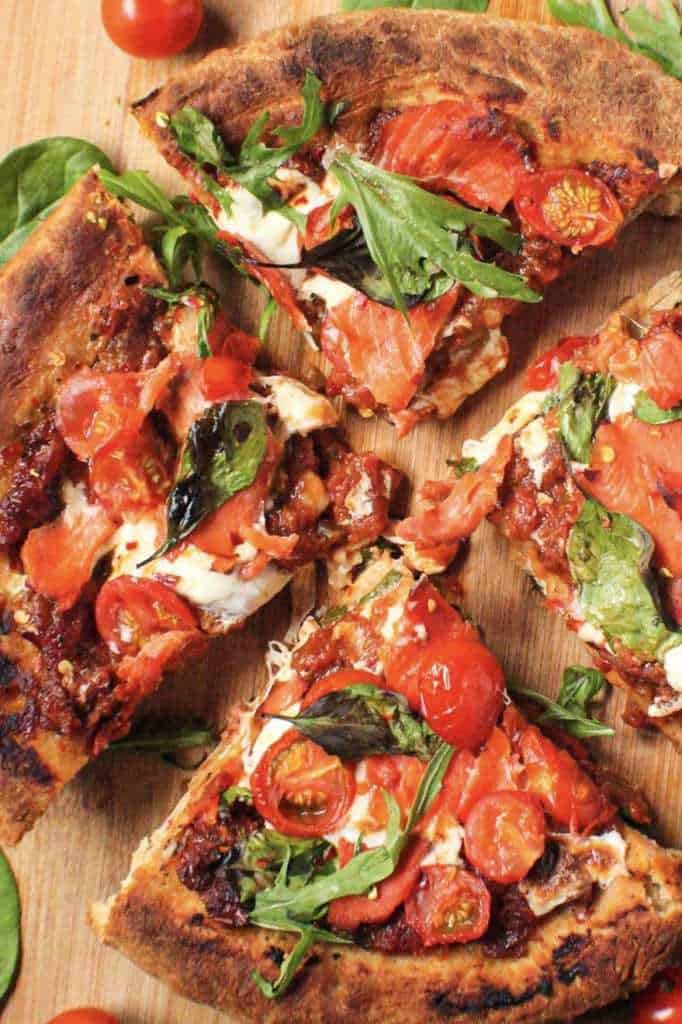 Homemade pizza has to be one of the most loved meals of all time –and one of my personal favorites! There are so many ways to prepare and cook pizza at home – on a sheet pan, on the grill, in a casserole dish, on a pizza stone…the list goes on. Why not in a cast-iron skillet?
Ahhh…the cast iron skillet. Such a thing of beauty! I covet my Lodge Cast Iron skillet and I'm breaking it out every chance I get. I highly recommend it for this recipe. The wonderful thing about cooking with cast iron is that you can get such a crispy crust on whatever you cook in it. Cast iron can stand extremely high temps and delivers that heat to your pizza to give the crust that nice crunch.
There are a few things you need to make sure of when using this method to cook pizza.
PREPARING YOUR CAST IRON SKILLET
Know that simply using a cast iron skillet to cook your pizza in does not make your crust crispy. You must preheat your cast iron pan in order for this recipe to turn out properly. I recommend preheating the skillet for at least 20-25 minutes at 500 degrees F before placing your dough in the pan.
Make sure you have your toppings ready to go when you remove your pan from the oven. You do not want the pan to cool while assembling your pizza. Spread oil around the hot pan carefully with paper towels or napkins. Sprinkle your pan with a mixture of flour and cornmeal to keep the pizza from sticking. You are now ready to place your dough in the pan.
THE DOUGH
You can use any pizza dough you choose for this recipe. Store-bought dough from your grocer's refrigerated section, homemade dough or a dough ball from your local pizzeria all work fine. Try this simple pizza dough recipe and freeze the other half of the dough for your next pizza night.
SAUCE AND TOPPINGS
You want to spread your sauce onto the dough before adding your cheese and other toppings. Store-bought pizza sauce works just fine or you can try this easy homemade pizza sauce recipe. Be sure and leave a little room around the edge of your pizza for the crust to form and rise.
Some delicious topping ideas are:
Prosciutto
Cooked sausage crumbles
Cooked chicken breast pieces
Sliced mushrooms
Baby spinach leaves
Olives
Artichoke hearts
Sun-dried tomatoes
Once you remove your pizza from the oven, top with crushed red pepper and fresh basil or arugula if you like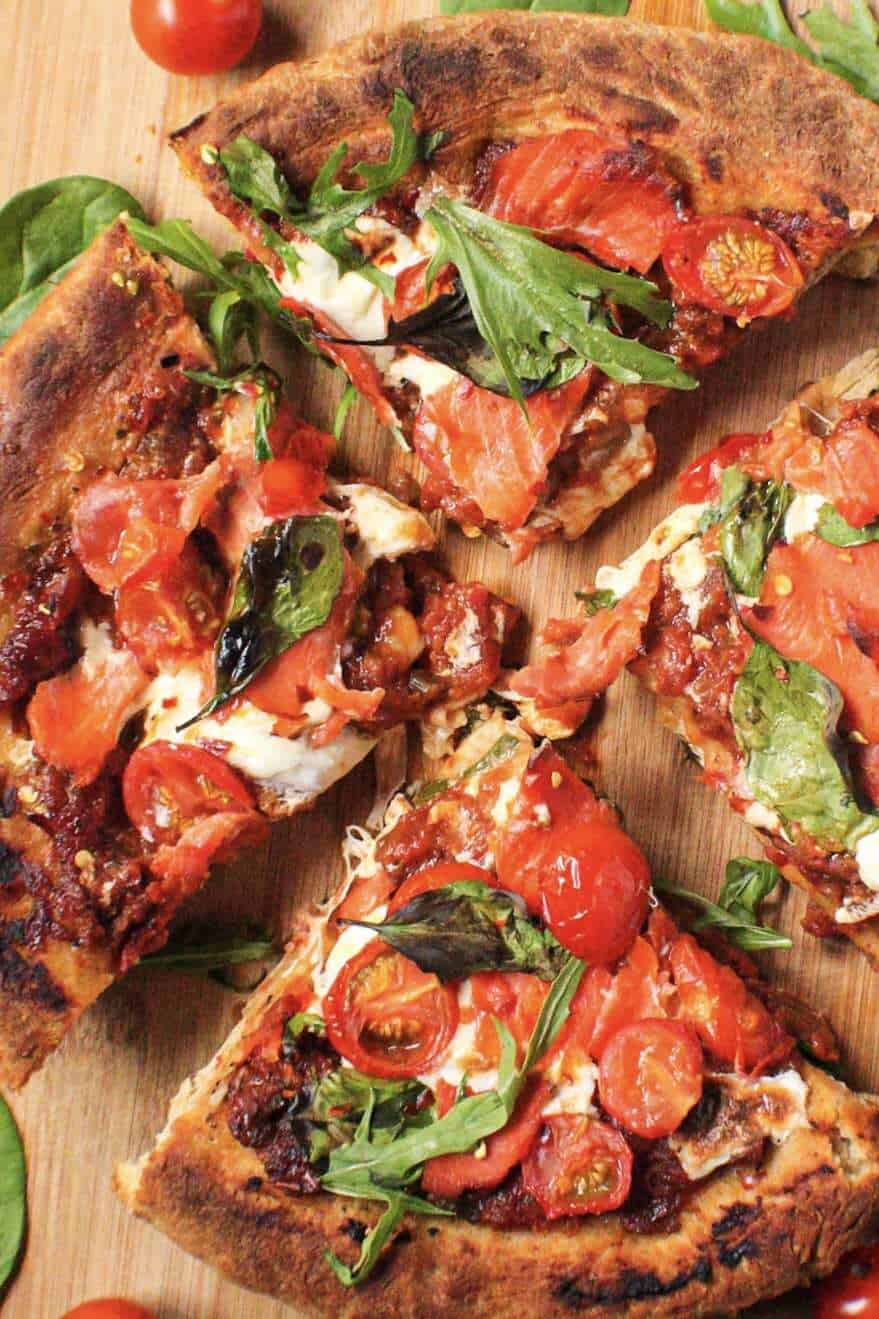 Product recommendations for making this Cast Iron Skillet Pizza: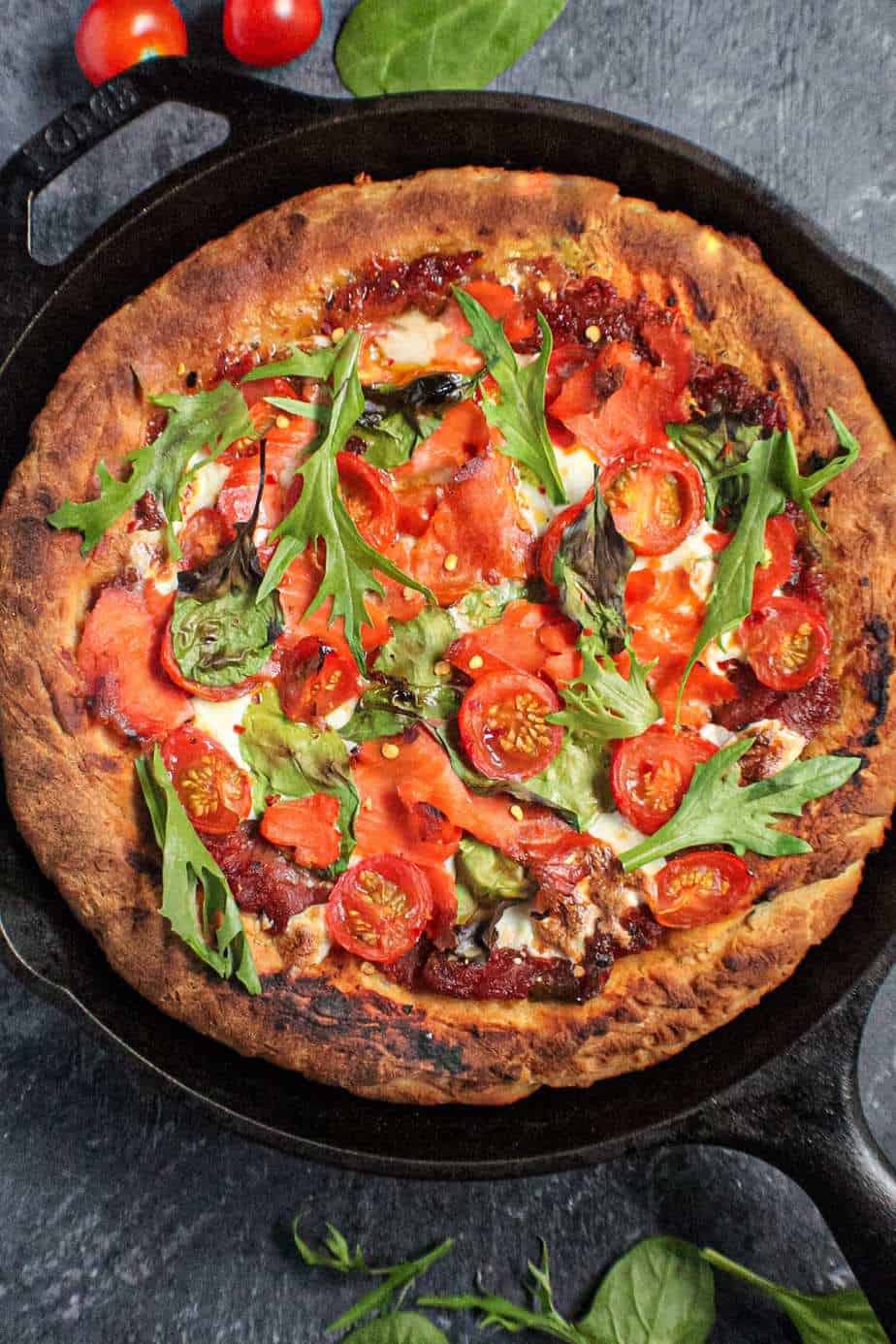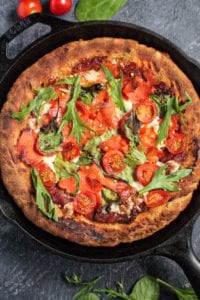 Cast Iron Skillet Pizza
Take your homemade pizza game to the next level by cooking in it up in a cast iron skillet. The crust gets extra crispy by using high heat. Add fun, creative toppings for the best homemade pizza recipe ever!
Ingredients
4

oz

pizza dough

homemade or store bought

6

oz

pizza sauce

homemade or store bought

¾

cup

mozzarella cheese

¼

cup

parmesan cheese

2

tablespoons

oil
Instructions
Preheat oven to 500F. Place un-oiled cast iron skillet in oven to preheat for 20-25 minutes.

Cut dough ball in half, use hands to press out dough into a circle about the size of your skillet.

Have all ingredients ready to go and remove heated skillet from oven. Very carefully use a few paper towels/napkins to spread oil around to coat hot skillet. Carefully place dough circle in pan and adjust to fit edges.

Add sauce leaving room around the edges for crust to form and rise. Sprinkle mozzarella & parmesan cheese over top. Add additional toppings of choice.

Bake for 14-16 minutes – cheese should be bubbling, browned, and crust should be golden brown. Allow pizza to cool slightly then carefully transfer to cutting board. Top with red pepper flakes if desired. See notes for extra toppings.

Either repeat cooking process with other dough ball to make second pizza or freeze second dough ball for later use.
Notes
I chose smoked salmon, baby spinach leaves and halved cherry tomatoes for my toppings. Feel free to use any toppings you choose.
Other toppings ideas are: prosciutto, sausage, cooked chicken breast pieces, mushrooms, peppers, fresh basil, artichoke hearts, sun dried tomatoes
I recommend not using more than 3 toppings as you don't want your pizza to cook unevenly.
Spread toppings around in an even layer being sure not to overcrowd pizza.
Nutrition
Serving:
1
slice
Calories:
291
kcal
Tried this recipe?
Tag @thepinkowlkitchen on Instagram! And don't forget to leave a ⭐️⭐️⭐️⭐️⭐️ rating and review!