S'mores are such a nostalgic and fun treat! I remember having them as a kid with the melty chocolate and gooey marshmallow pulling away as you took a bite. There's something about that combination of graham cracker, chocolate and marshmallow that we just can't get enough of! These S'mores Blondies deliver on ALL of that goodness!
I used to work as a grocery store manager (don't ask me how or why!) and I remember it being a big ordeal for the merchandisers trying to decide on the best season to put up the s'mores displays around the store. Some argued fall because that's when the weather actually permitted sitting out next to a fire and roasting marshmallows and some argued summer because duh - s'mores are a summer treat! Well those who argued summer won out and if you go into one of those grocery stores right now (for those in the U.S.), you'll see the s'mores displays throughout the store.
I would definitely agree that s'mores are a signature summer treat. One of the wonderful things about s'mores is that you can totally reinvent them and incorporate the ingredients into an endless number of desserts and treats. For this recipe, I decided to take s'mores ingredients and incorporate them into a very well-known dessert - the blondie. There are actually tons of different takes on the s'mores blondie out there and I decided to share my favorite with you!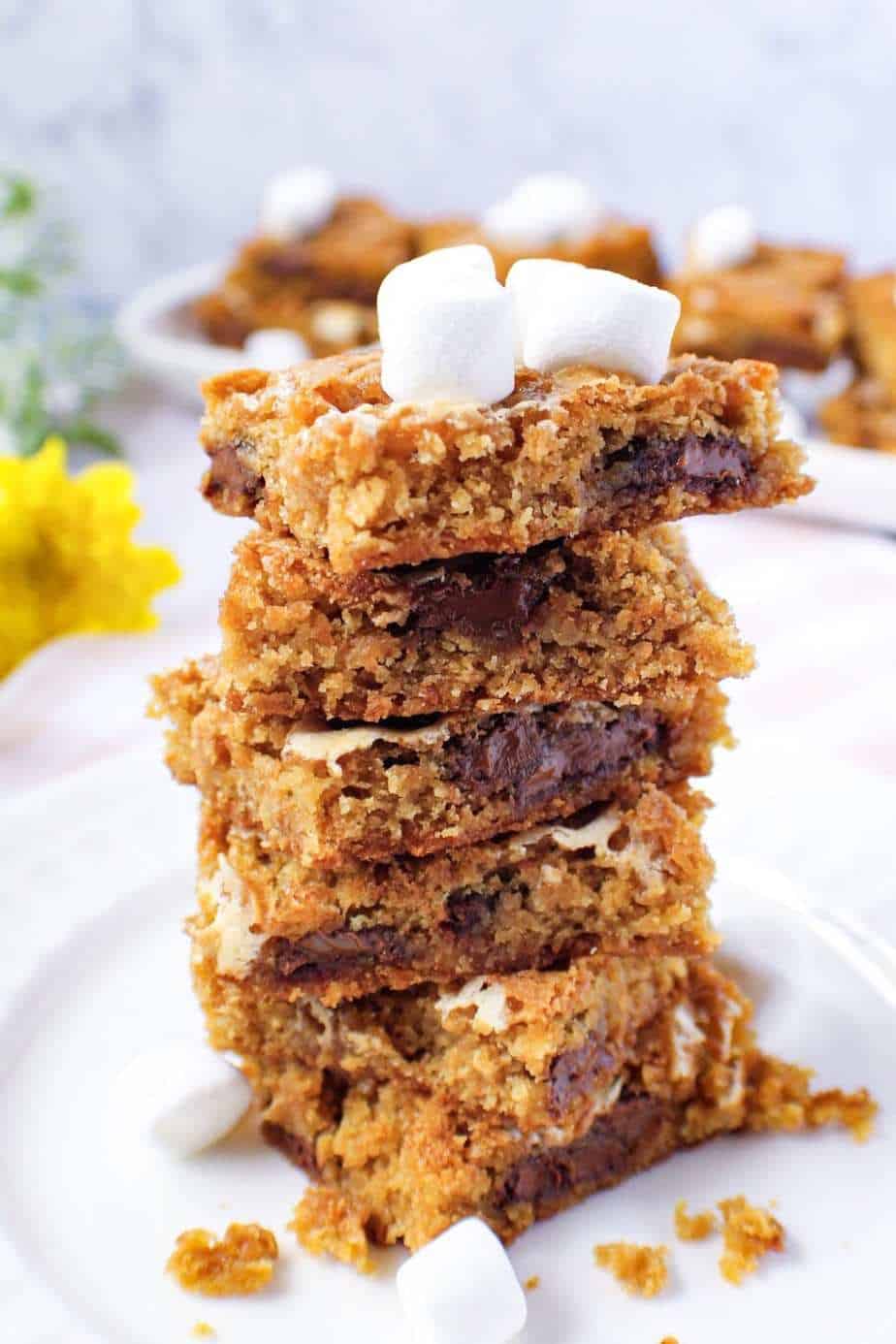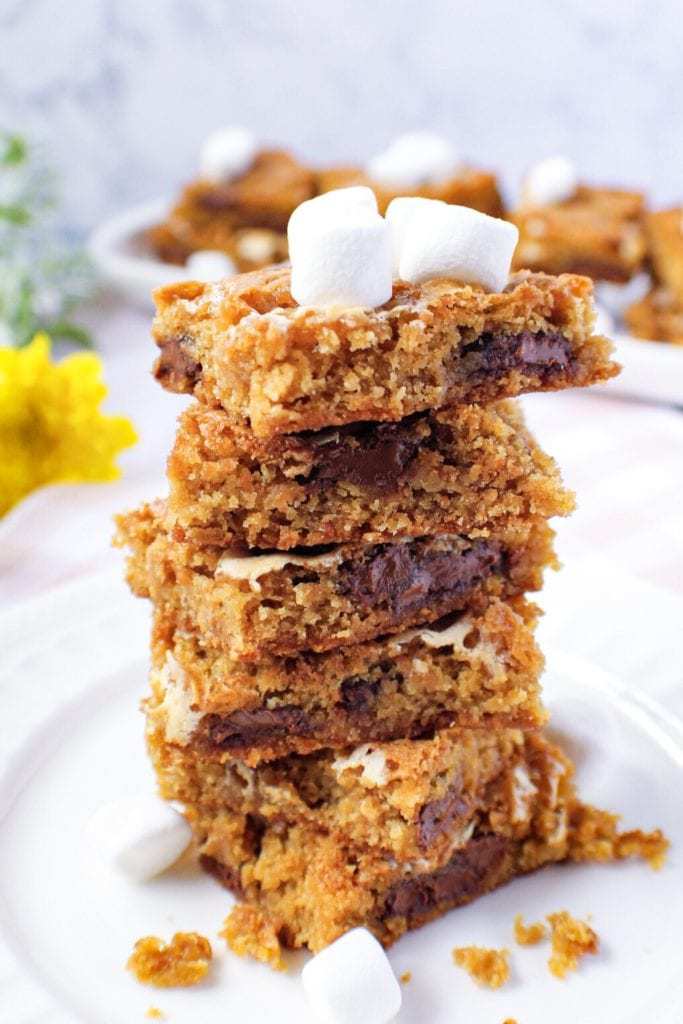 Making S'mores Blondies
These S'mores Blondies are surprisingly easy to make. You just combine all of your ingredients in a bowl and bake until edges are brown but blondies are still a bit gooey in the center.

I prefer to incorporate the graham cracker flavor by adding the crumbs into the base blondie batter instead of adding pieces of graham crackers as a filling or topping.

I then use chopped Hershey bar pieces and incorporate them at two different stages of cooking.

Then of course there are those sweet and fluffy marshmallows that are added on top and baked until just golden.
I know many people prefer not to crank up the oven too often during the summer months (myself included) but these blondies are totally worth it!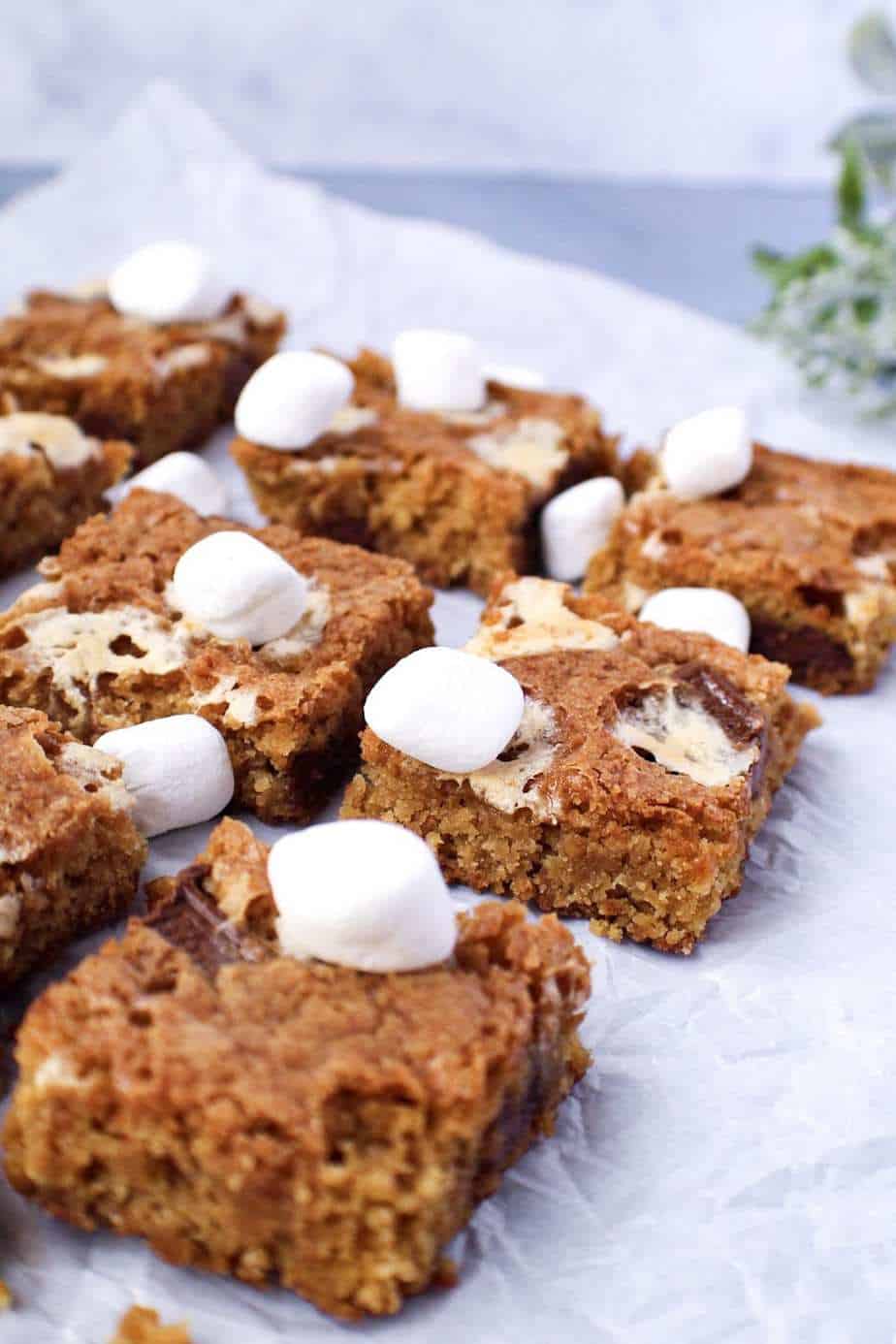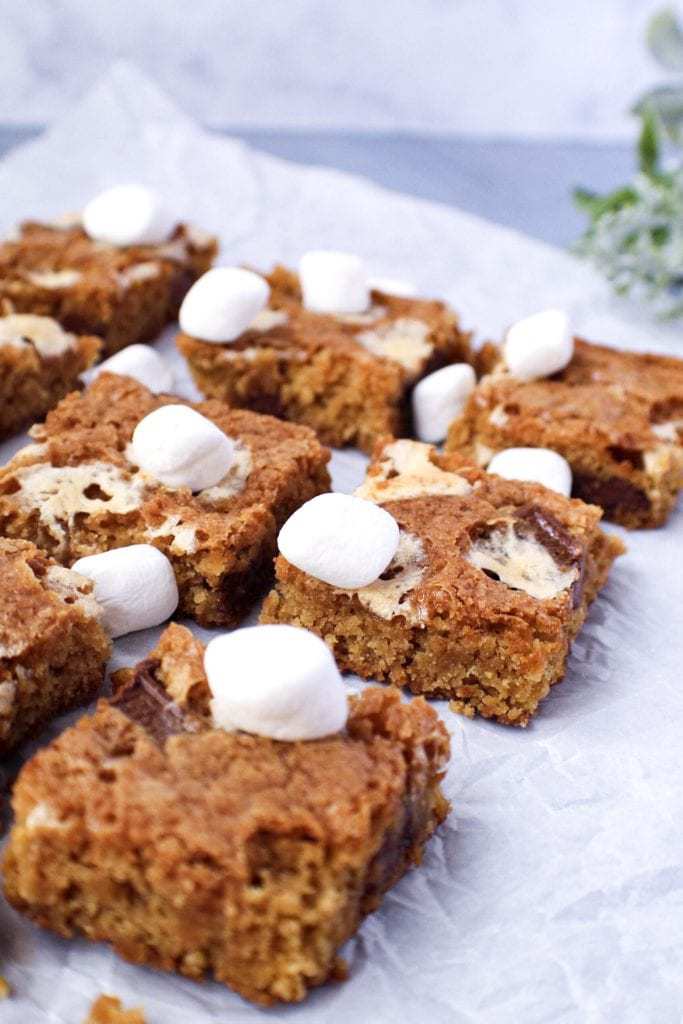 Check Out These Other Irresistible Sweet Treats by Pink Owl Kitchen: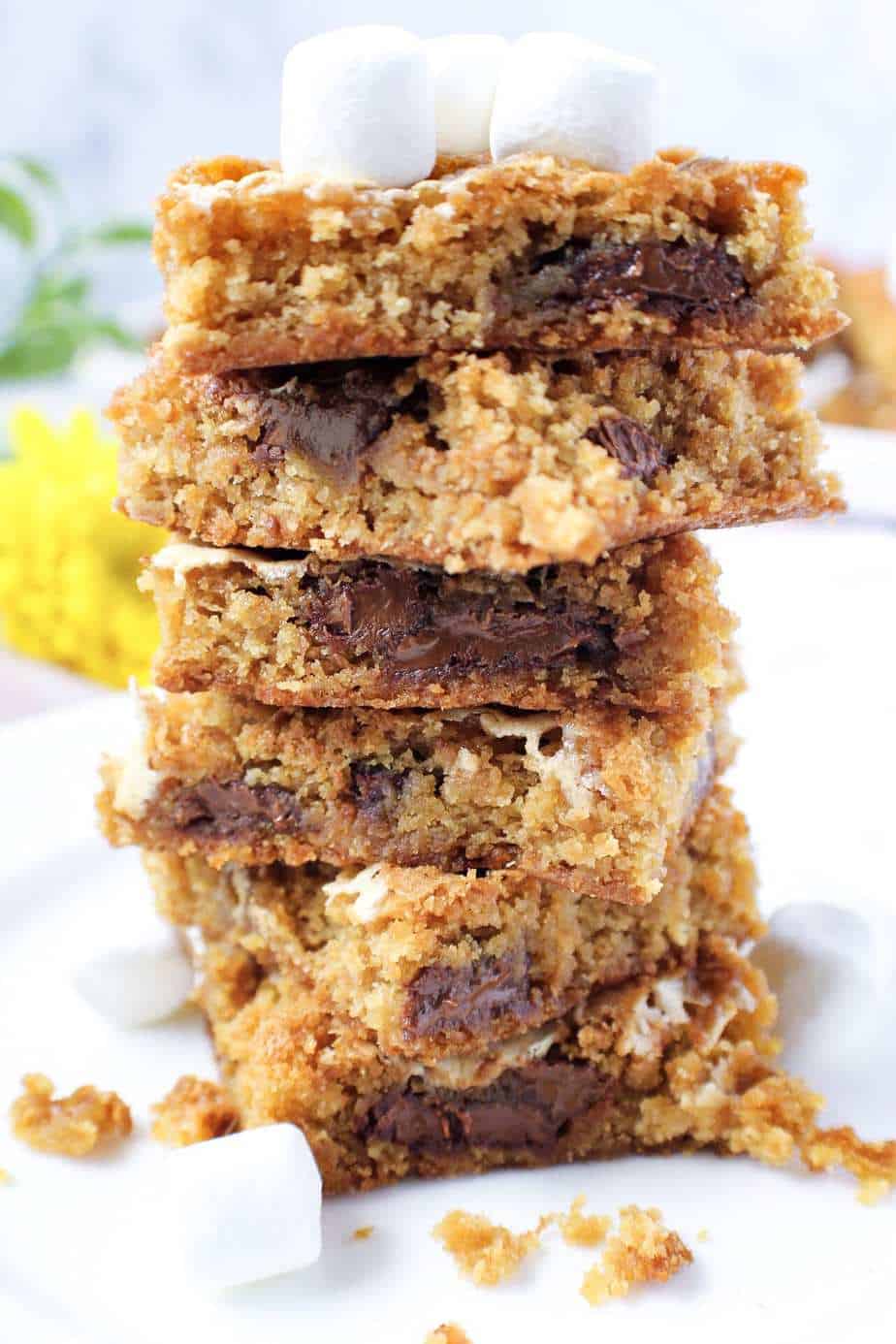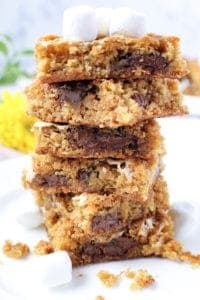 S'mores Blondies
Classic s'mores ingredients – graham crackers, Hershey's chocolate, and marshmallows are incorporated into chewy blondies for the perfect summer teat.
Ingredients
1

cup

all-purpose flour

1

cup

graham cracker crumbs

2

teaspoon

baking powder

1

teaspoon

salt

1 ½

sticks unsalted butter

¾ cup

1 ¾

cups

packed light brown sugar

2

large eggs

2

teaspoon

vanilla extract

1

cup

chopped Milk Chocolate Hershey bars

about 4 bars

1

cup

miniature marshmallows
Instructions
Preheat oven to 350 degrees Line a 9 x 13 inch pan with parchment paper, leaving an overhang on two opposite sides. Spray lightly with nonstick spray.

In a medium bowl, combine flour, graham cracker crumbs, baking powder and salt; set aside.

In a medium saucepan, melt butter over low heat. Stir in brown sugar just until moistened. Remove from heat and let cool slightly. Whisk in egg and vanilla. Stir in flour mixture just until combined.

Pour batter into prepared pan, smoothing out and spreading evenly. Spread half of chocolate pieces over top.

Bake until toothpick inserted into center comes out clean, about 20-25 minutes. Remove from oven and spread remaining chocolate pieces and marshmallows over top and bake until marshmallows are a pale golden color, about 7-8 minutes. Cool completely in pan on wire rack. Refrigerate for at least 1 hour before cutting. Lift out of pan by parchment paper handles and cut into 24 bars. Serve.
Nutrition
Tried this recipe?
Tag @thepinkowlkitchen on Instagram! And don't forget to leave a ⭐️⭐️⭐️⭐️⭐️ rating and review!