Risotto is one the hubby's favorite side dishes. Whenever I ask him what he would like for Sunday dinner, nine times out of ten it will include some type of risotto. Risotto can be a bit tricky to master when you first start trying out recipes, but once you have your technique down it's a breeze. You really want to get that nice overall creamy texture but still have a slightly al dente texture to your rice.
I got a bit creative with this recipe when my husband came to me with a special request per a recipe he stumbled across online...a risotto with strawberries. I thought it sounded interesting and I was definitely up for the challenge. During my research I was surprised to find that strawberry risotto was a popular dish in the 80's and was a featured recipe in some very popular cookbooks of the time. I figured it was time to bring it back!
One of my initial concerns was that the strawberries would make the risotto oddly sweet, but I read that this would not be the case. To my surprise the risotto was not overly sweet at all! You actually only get a tiny bit of sweetness when you happen to bite into a bit of strawberry that held together during cooking. This recipe is definitely a savory dish and the Gorgonzola gives the dish that unexpected bite that I was looking for!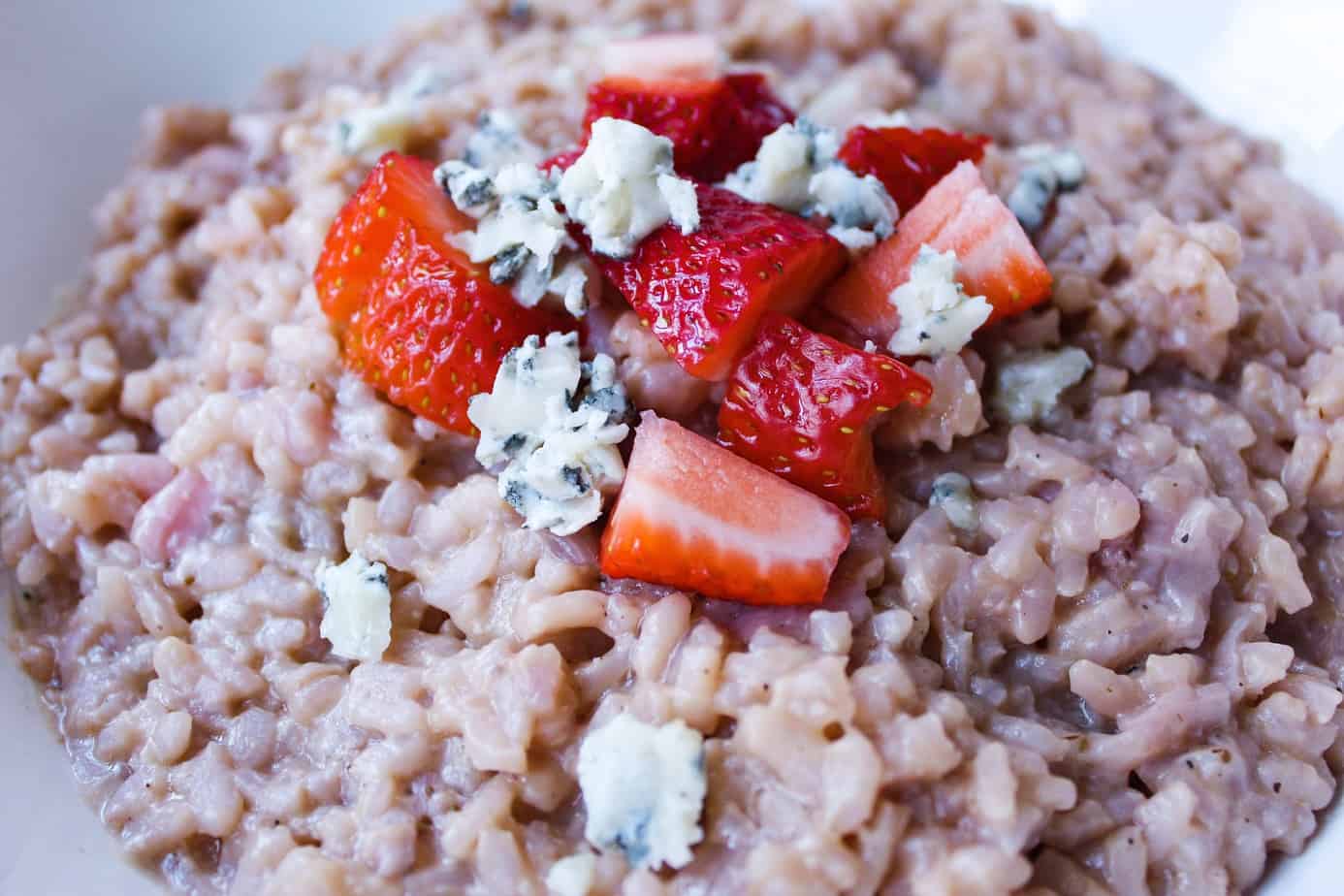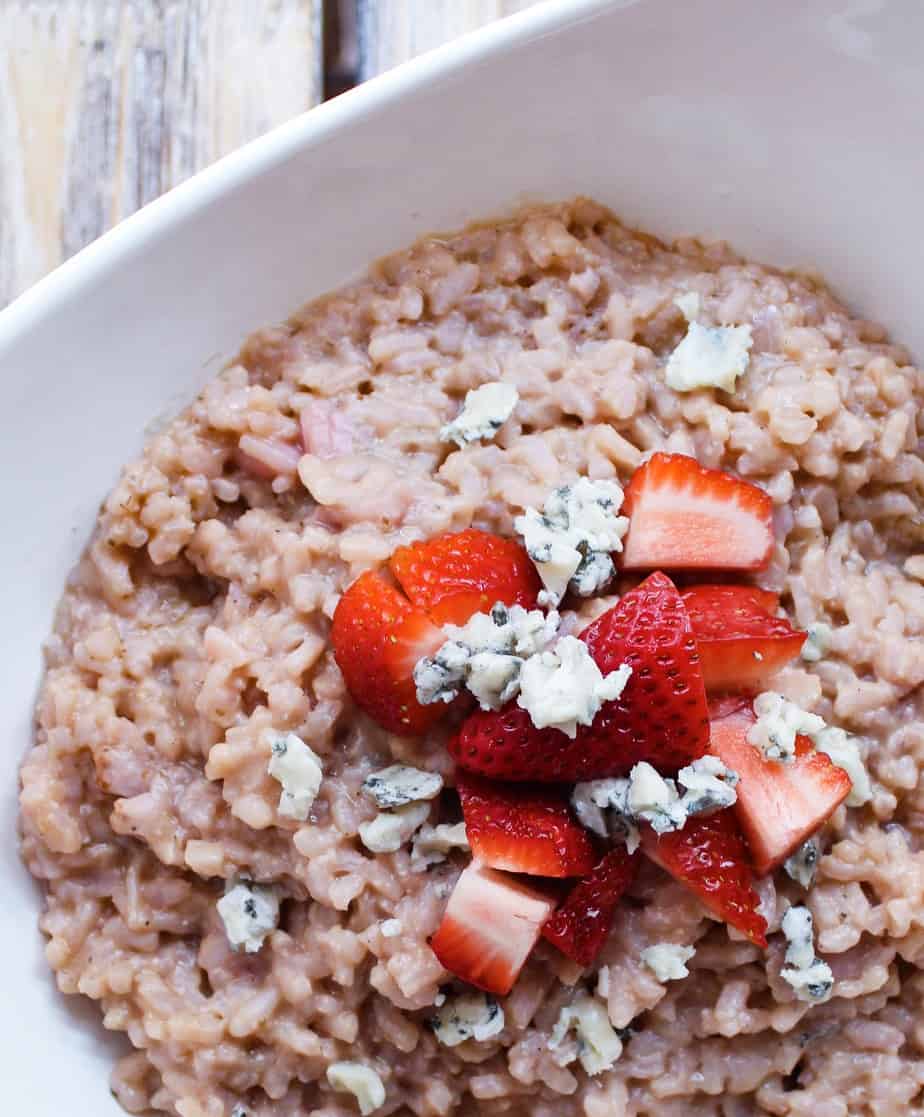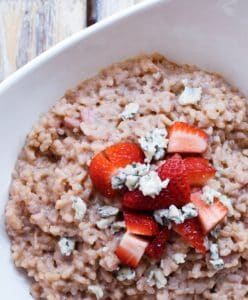 Strawberry Risotto with Gorgonzola
Risotto gets and unexpected addition in this recipe with fresh strawberries and has a nice tanginess thanks to the Gorgonzola
Ingredients
1

tablespoon

olive oil

3

tablespoons

unsalted butter divided

¾

cup

chopped onion

2

garlic cloves minced

½

teaspoon

ground white pepper

¼

teaspoon

salt

1

cup

uncooked arborio rice

½

cup

dry white wine

4

cups

low-sodium vegetable broth

simmer broth to warm before beginning risotto

¼

cup

crumbled gorgonzola cheese recommended

1 ½

cups

chopped and mashed fresh strawberries
Instructions
Heat olive oil and 1 tablespoon butter in a heavy bottom sauté pan over medium heat.

Add onion and cook until softened and opaque, stirring occasionally, about 5 minutes. Add garlic, salt and pepper, stir and cook about 1 more minute.

Add rice and stir to combine. Continue stirring and cooking until the rice is just toasted and the edges are translucent.

Add wine and stir to combine. Cook until the rice absorbs the wine, stirring constantly.

Add warm broth, a ladle at a time, stirring after each added ladle and constantly stirring while cooking. Wait to add each ladle of broth until the rice has almost soaked up the last addition.

Taste test the rice after you have added about 3 cups of broth to see if it is done. It should be al dente but a bit chewy and not completely mushy.

The risotto is ready when it has a thick and creamy consistency.

Add one more ladle of broth, remaining 2 tablespoons butter, gorgonzola cheese, and strawberries. Stir to combine and keep stirring until butter and cheese has melted.
Notes
Mash strawberries with fork or potato masher.
Nutrition
Serving:
1
serving
Calories:
376
kcal
Tried this recipe?
Tag @thepinkowlkitchen on Instagram! And don't forget to leave a ⭐️⭐️⭐️⭐️⭐️ rating and review!