Delicious homemade sweet potato gnocchi is cooked with plump, tender shrimp, sausage, and fresh baby spinach in this comforting recipe!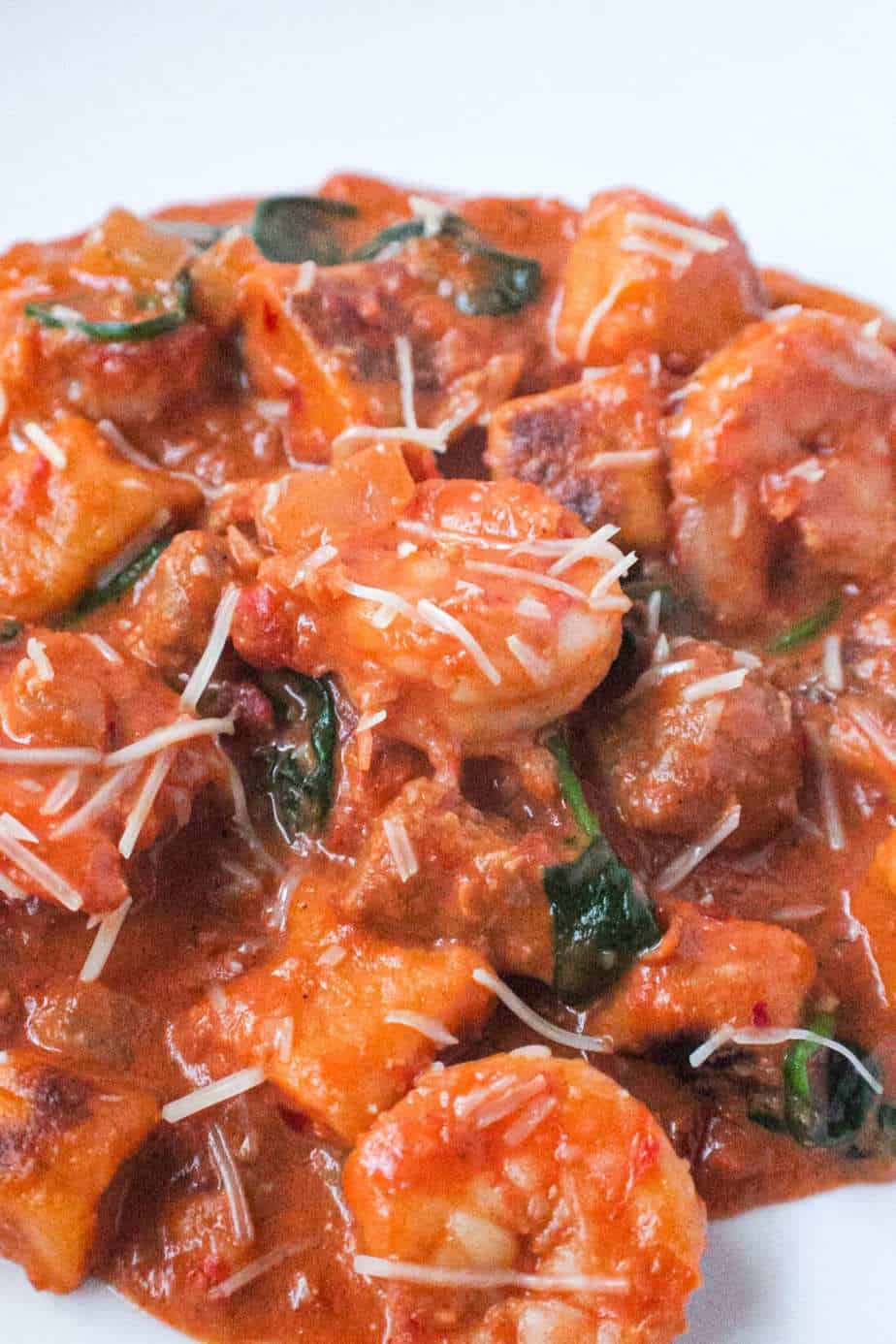 I've never been a fan of dumplings but for some reason, gnocchi is the exception to that for me. I find the combination of the boiled potato and flour to have such a delicious texture. Sweet potato gnocchi is even better!
I love sweet potatoes. They are so much more nutritious than white potatoes and the sweet flesh adds wonderful flavor to just about any dish you can think of.
Gnocchi is a bit labor-intensive to make but is well worth it. I look at it as a labor of love. The great thing is that you will have a ton of gnocchi - definitely enough to freeze some for later use. That makes gnocchi even more worth the effort!
Don't be intimidated by the process of making gnocchi. Follow a few simple steps and pay close attention to the texture of your dough and you'll be making gnocchi like a boss in no time!
First, you want to either microwave or bake your sweet potatoes until tender. Once your potatoes have cooled, scoop out the flesh into a large bowl and mash.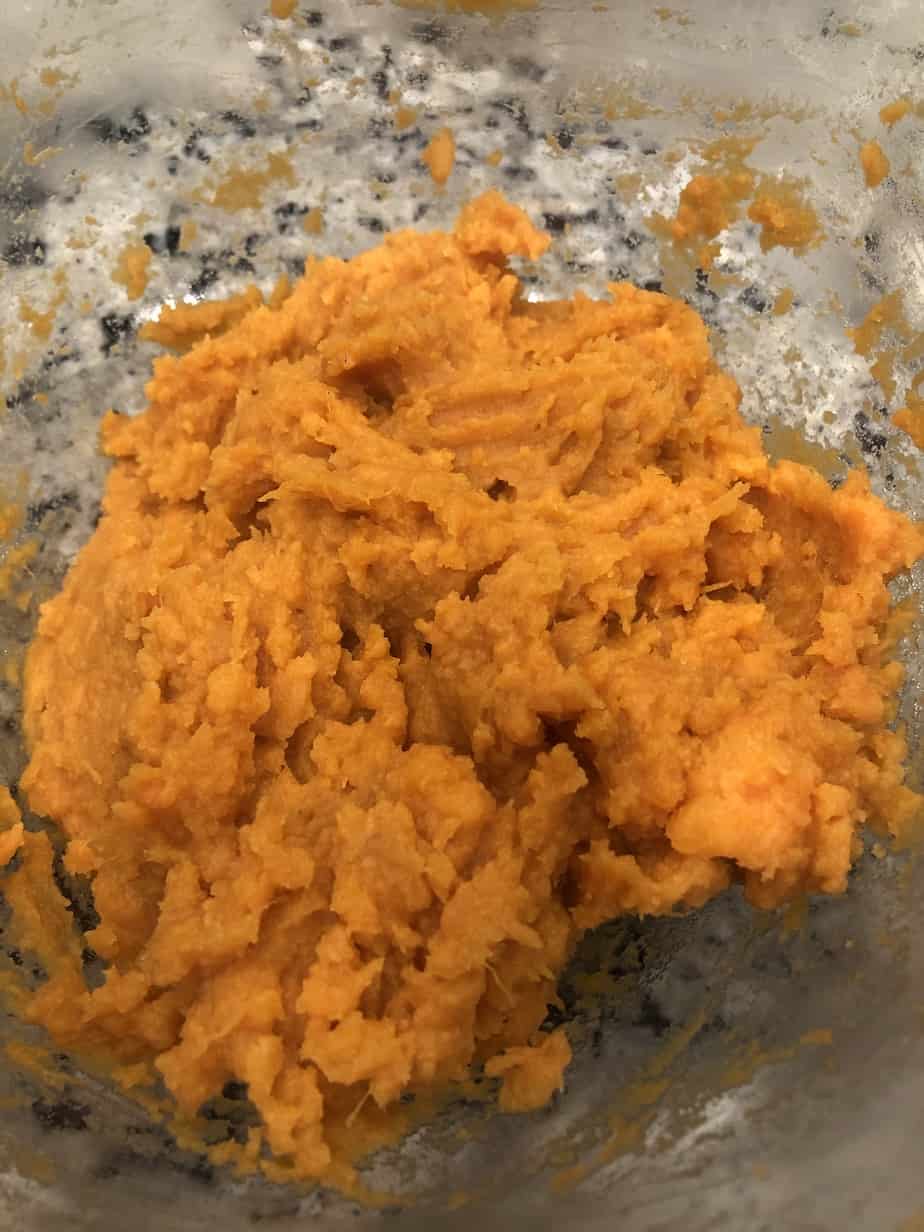 Next, you will mix in ricotta, parmesan, an egg, salt and pepper and combine all the ingredients together.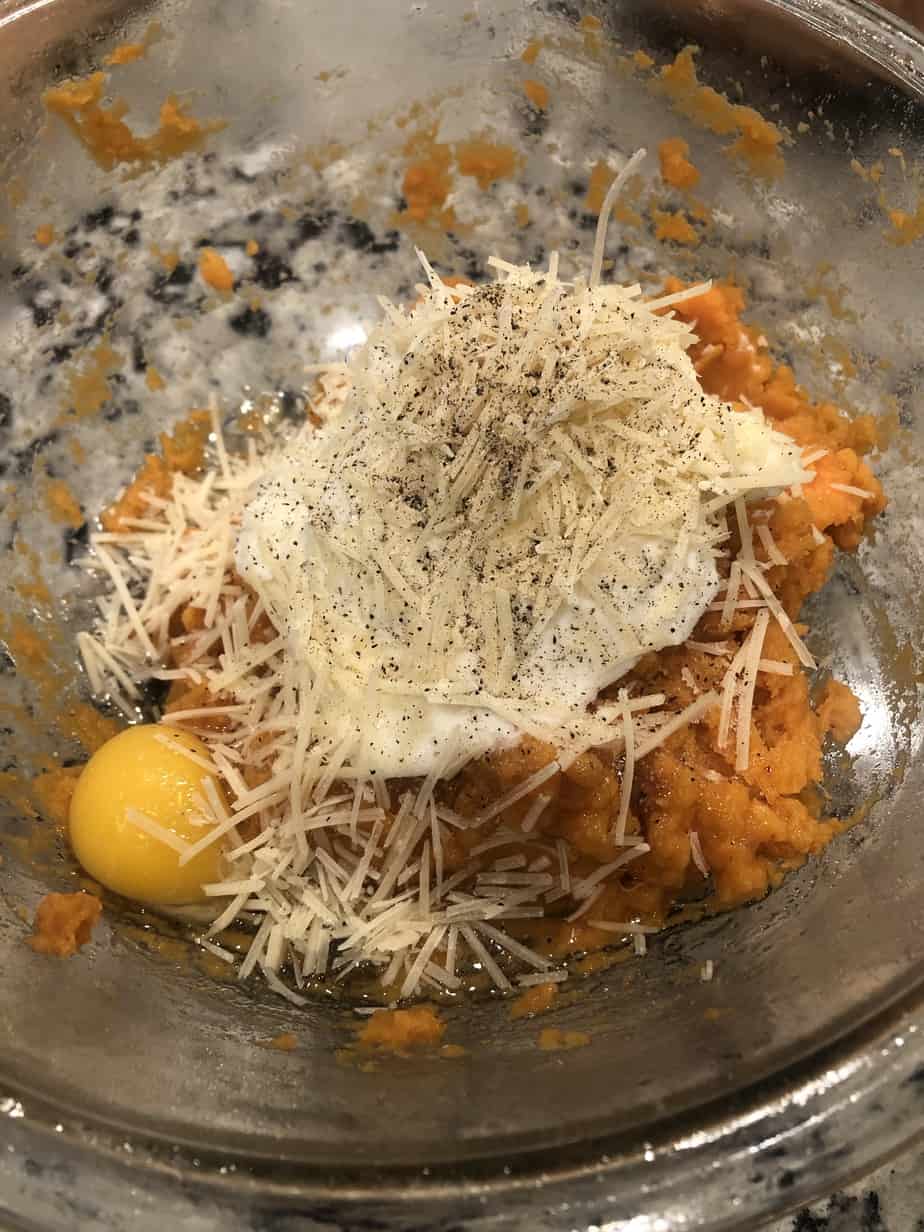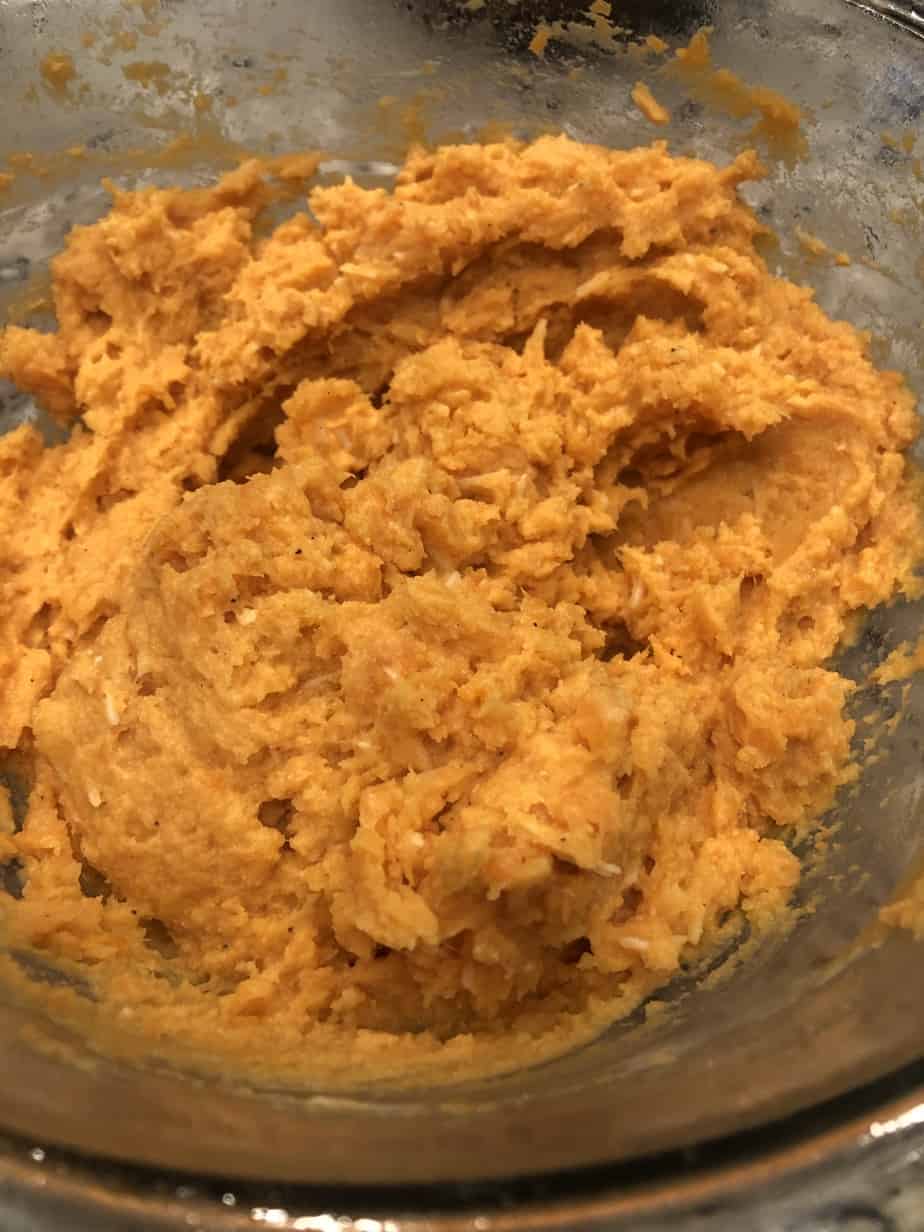 Next, you add in your flour a little at a time kneading in between each addition. be careful not to add too much flour during this step as you want your dough to be a bit sticky. Once the dough comes together, transfer to a floured surface and shape into a disc.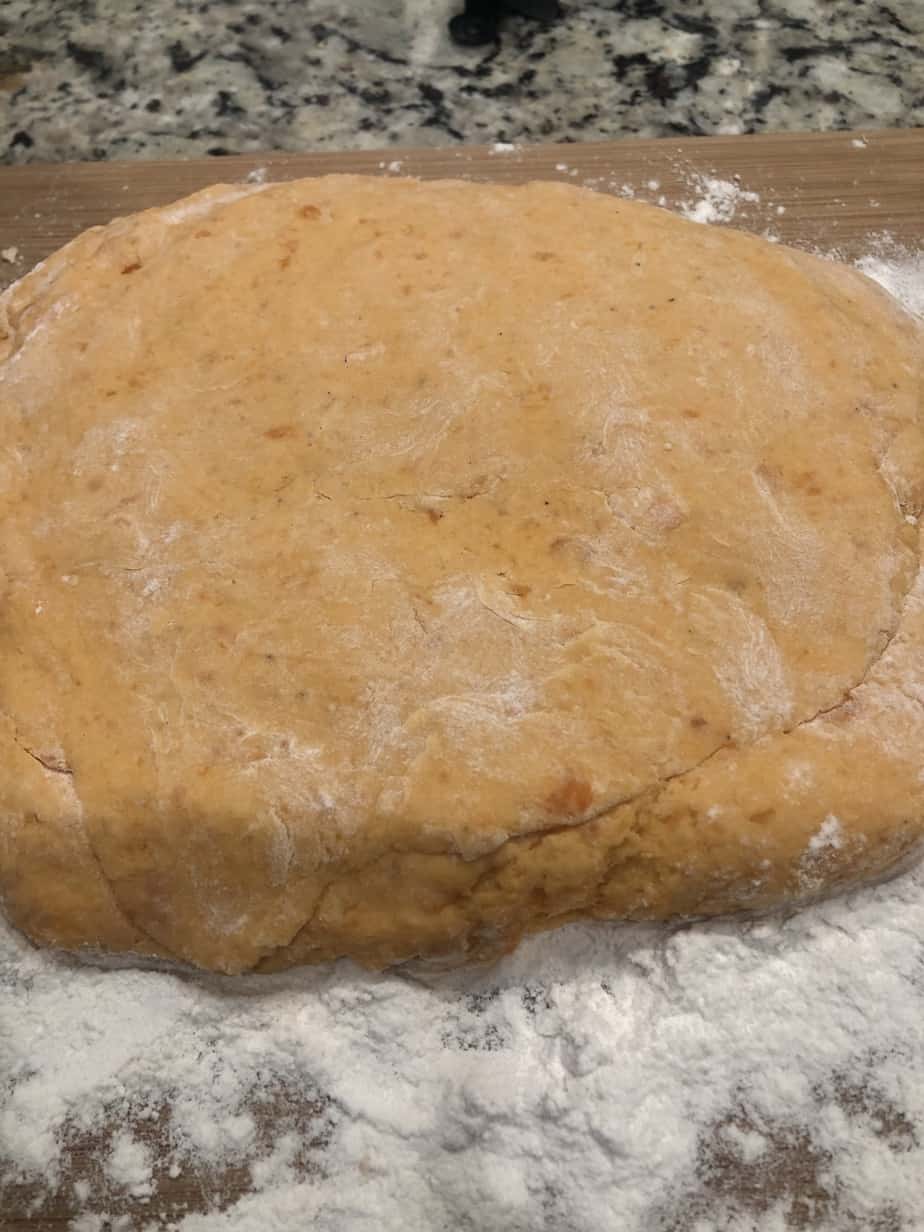 Then divide dough into six equal size balls. Stretch and roll each ball into a long skinny rope.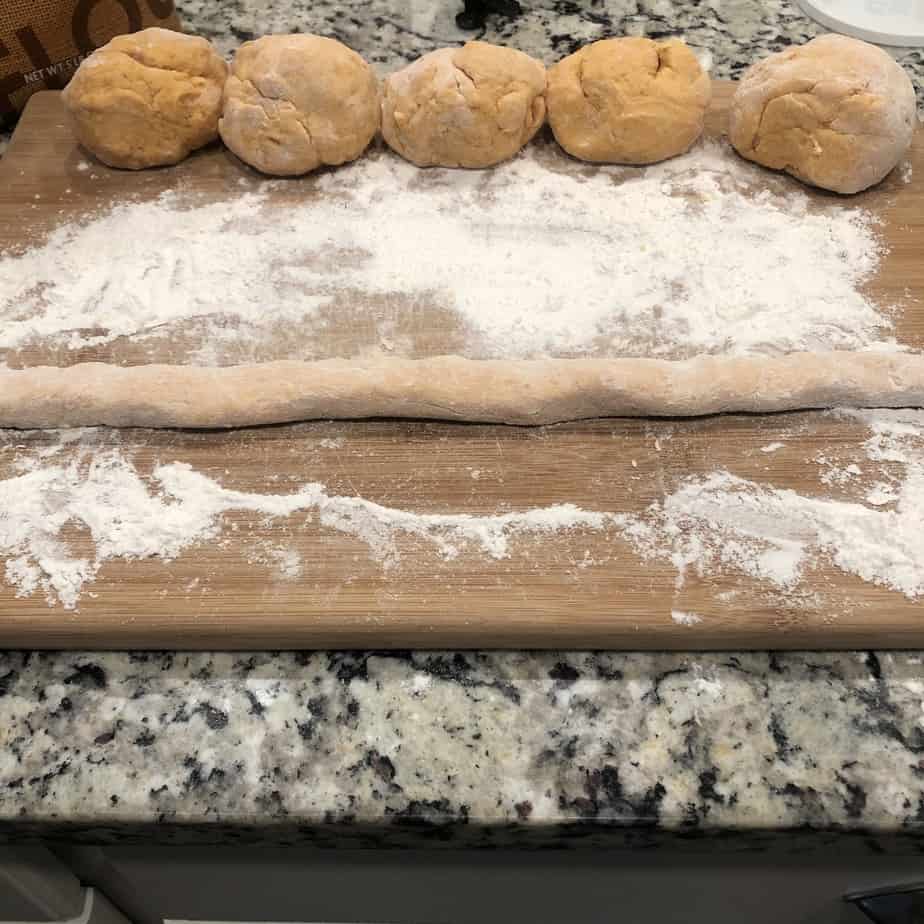 Cut each rope into small squares. There's no need to be a perfectionist here. If some are a bit bigger than others that's totally fine. Congratulations! You've made your gnocchi!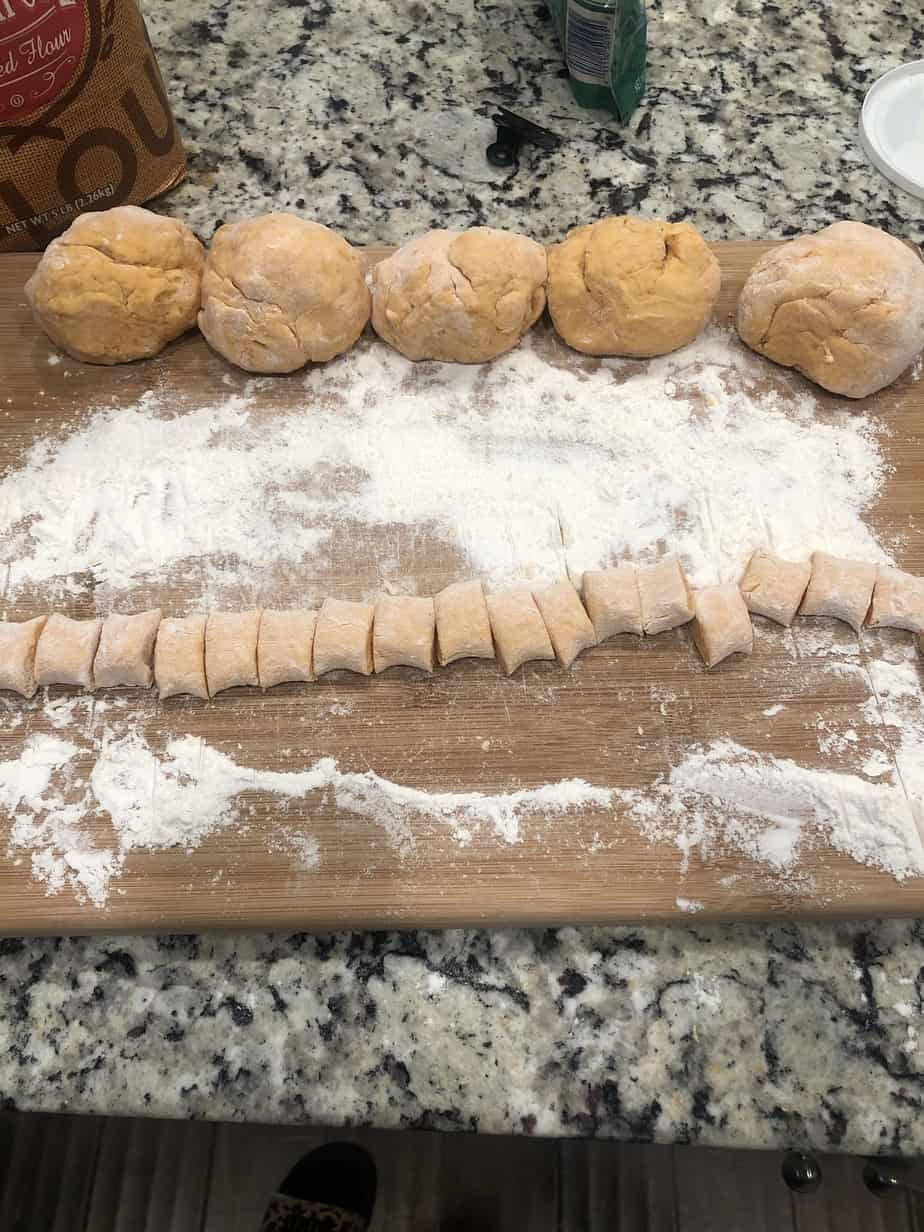 Once you have all of your gnocchi squares cut, you will boil them in three batches. When the gnocchi float to the top they are ready to be removed from the water.
Next you will make a quick creamy tomato sauce and combine the gnocchi with all of your other ingredients. You will want to quickly pan fry your gnocchi in butter or oil before combining them with your other ingredients - this gives the gnocchi great texture.
I chose jumbo shrimp, Beyond Meat Plant Based Brat Sausage and fresh baby spinach for this gnocchi dish. Feel free to sub out the proteins or veggies according to your preference. Bringing everything together is the fun part! Everyone will think you're quite the fancy chef when you place this dish in front of them!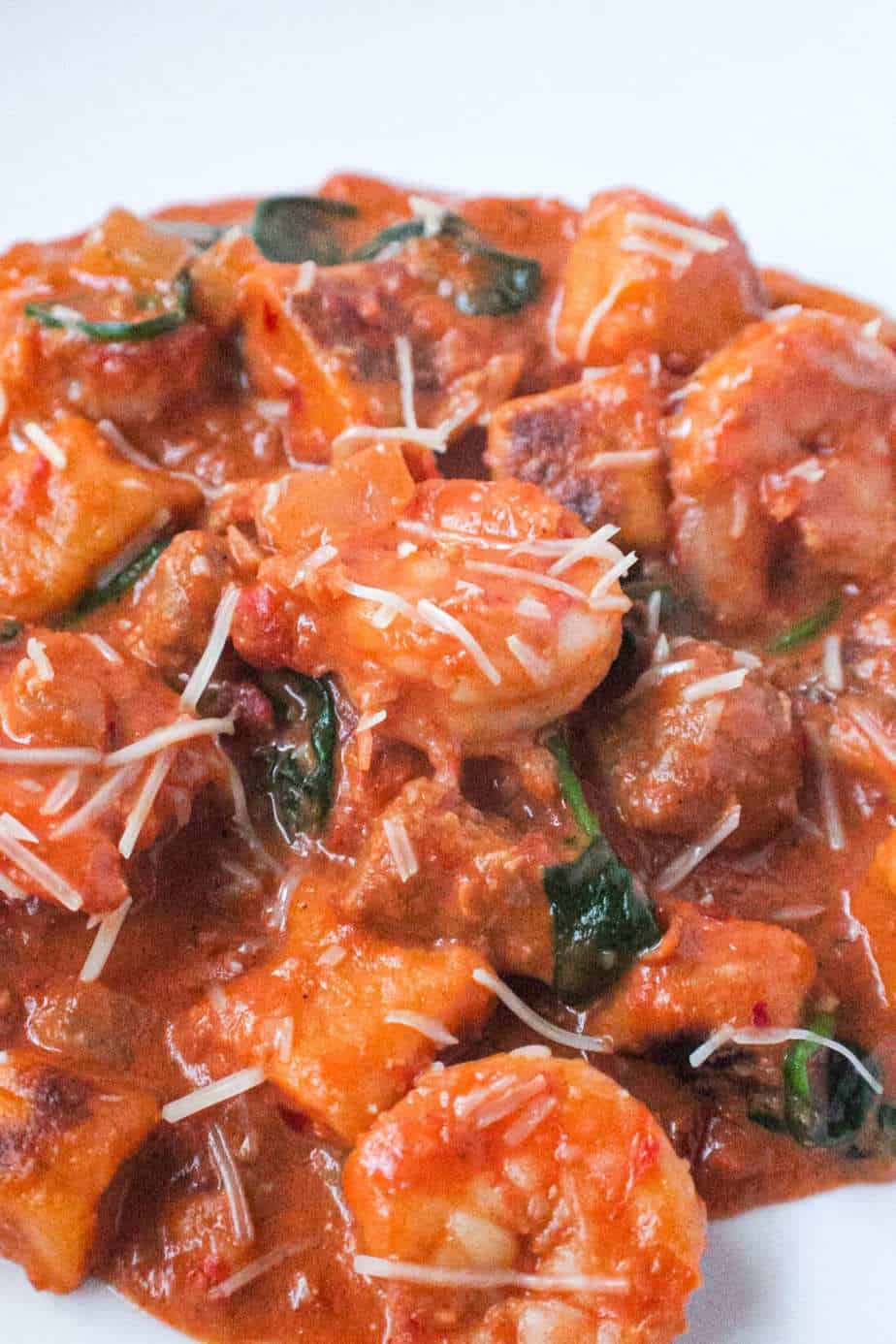 Loving this recipe? Be sure and check out these simple and delicious recipes as well: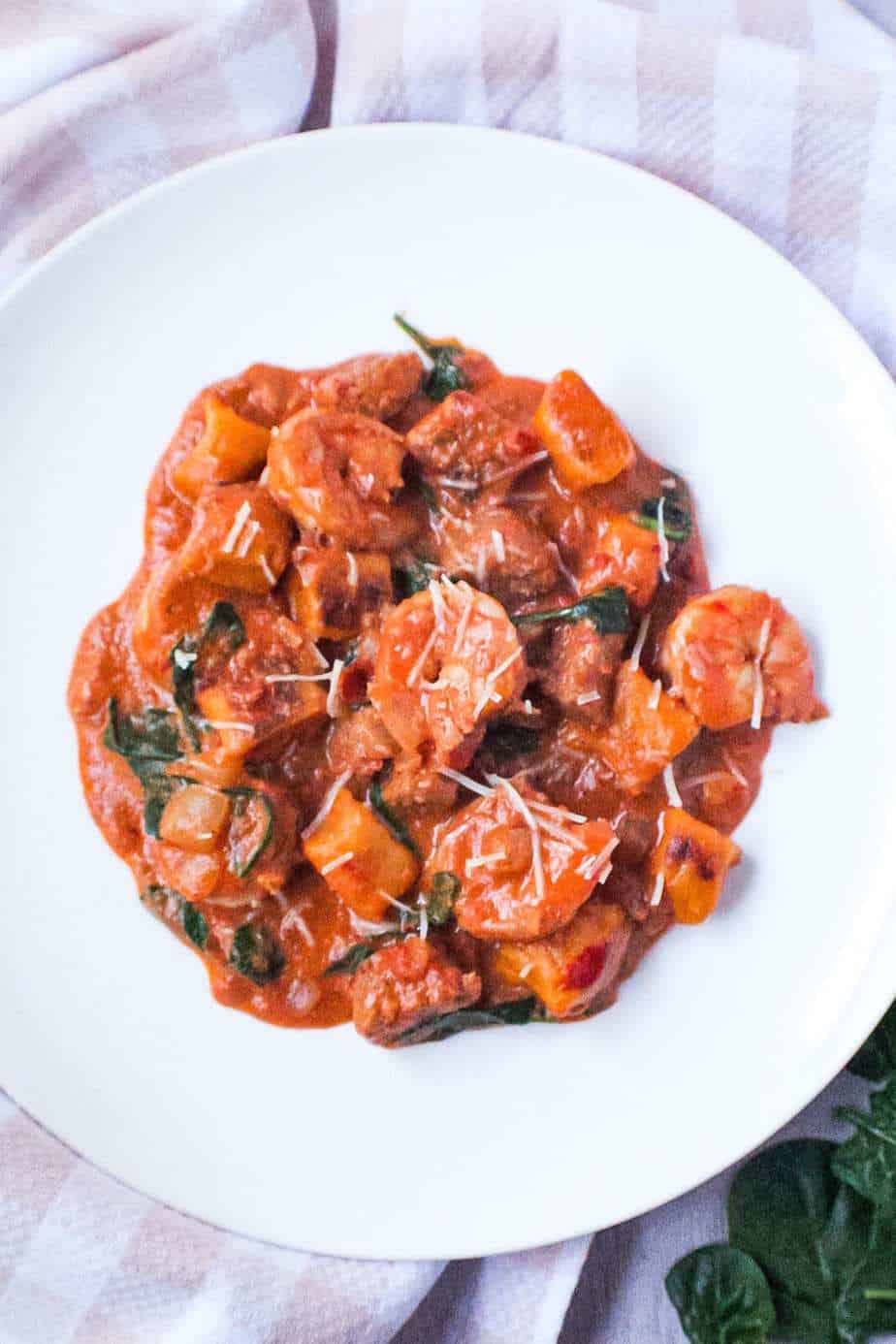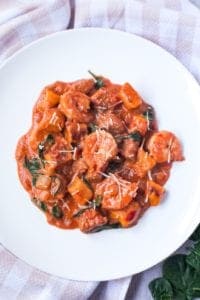 Sweet Potato Gnocchi with Shrimp and Creamy Tomato Sauce
Delicious homemade sweet potato gnocchi are cooked with tender shrimp, sausage and fresh baby spinach.
Ingredients
Sweet Potato Gnocchi
Two medium sweet potatoes or one 1 lb. sweet potato

1

cup

whole milk ricotta cheese

¼

cup

Parmesan cheese

1 ½

teaspoons

salt

1

teaspoon

black pepper

1 ¼

cup

flour

plus extra for dusting
Other Ingredients
8

tablespoons

olive oil

1

cup

crushed tomatoes

⅓

cup

half and half

2

tablespoon

dark brown sugar

1

tablespoon

good balsamic vinegar

1 ½

teaspoon

salt

2

teaspoon

black pepper

1

teaspoon

garlic powder

½

teaspoon

crushed red pepper flakes

½

medium yellow onion

chopped

2

cloves

garlic

minced

1

lb.

jumbo shrimp

peeled and deveined

7

oz.

Beyond Meat Plant Based Brat Sausage

you may use any other sausage you prefer as well

4

cups

baby spinach

¼

cup

Parmesan cheese
Instructions
For the gnocchi: Prick sweet potato(s) a few times with a fork, wrap in a damp paper towel, and microwave until soft, about 7 minutes. (You can also bake sweet potatoes in the oven, which will take about an hour.)

Cut cooled sweet potato in half and scoop the flesh into a large mixing bowl. Mix in the ricotta, parmesan, salt and pepper until well combined and almost completely smooth. Add the flour to sweet potato mixture ½ cup at a time, kneading very gently in bowl after each addition (be careful to not over knead – you don't want it to get tough).

As the dough becomes easier to handle, transfer it to a floured surface and form it into a disc (dough will be slightly sticky). Divide dough into six equal size balls. Stretch and roll each ball on a floured surface until it forms a long, skinny rope. Cut the rope into 1-inch squares and transfer to a baking sheet – you've made your gnocchi!

Bring a large pot of water to a boil, add the gnocchi in three batches, and boil until the gnocchi rise to the top of the water. Drain and toss gently with a little olive oil to prevent sticking. You will have a good amount of gnocchi and can freeze half once cooled for later use.

For the tomato sauce: Heat 3-4 tablespoon of olive oil in a medium sauce pan. Add crushed tomatoes, ¼ cup half and half, brown sugar, balsamic vinegar, 1 teaspoon salt and pepper, and garlic powder. Bring to boil then cover and reduce to a simmer for about 12-15 minutes, stirring occasionally.

Bringing everything together: Heat remainder of olive oil in a large skillet over medium high heat until hot but not smoking. Add gnocchi and pan-fry until golden brown on the outside (you may have to do this in batches). Set gnocchi aside. Add the shrimp, sausage and onion to the same pan and cook until onion is translucent and shrimp are opaque. Add gnocchi back to pan along with minced garlic. Pour desired amount of tomato sauce over gnocchi mixture and add spinach. Simmer until spinach is wilted and everything has come together, about 2-3 minutes. Remove from heat. Add the rest of the half and half to the pan along with the Parmesan cheese – toss gently a few times to combine (the sauce should coat the gnocchi other ingredients) and serve immediately with additional salt and pepper to taste.
Nutrition
Serving:
1
serving
Calories:
592
kcal
Tried this recipe?
Tag @thepinkowlkitchen on Instagram! And don't forget to leave a ⭐️⭐️⭐️⭐️⭐️ rating and review!