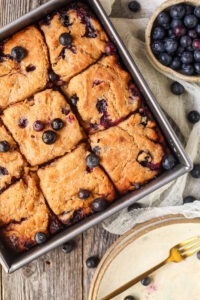 Blueberry Butter Swim Biscuits
If you are a fan of the super-popular swim biscuits, or even if you have not tried them, you will love this blueberry-filled variation! Biscuit dough packed with fresh blueberries is spooned on top of melted butter until it's "swimming" in a buttery pool, then baked until crispy on the bottom and light and fluffy on the inside!
Preheat your oven to 450°F. Melt ½ cup, or one stick, of butter in an 8 x 8 baking dish in the oven. If the butter browns slightly it is fine but be careful not to burn the butter.

Meanwhile, add the flour, baking powder, sugar, and salt to a large mixing bowl. Whisk the ingredients together until combined.

Add the blueberries and the buttermilk to the bowl with the flour and use a wooden spoon to mix until just combined, or until all of the flour is moistened and the blueberries are folded in. The batter will be wetter than a typical biscuit batter.

Spoon the batter into the baking pan with the melted butter and spread it out with your wooden spoon. The butter will spill over the top of the biscuit dough. Use a spatula to cut nine squares into the biscuit dough. This helps with cutting and serving the biscuits after they are baked.
You can use all-purpose flour instead of whole wheat. Just use ¼ cup less buttermilk in the dough.
Leftover biscuits can be stored in a zip-top bag or an airtight container in the refrigerator for up to five days.
Serving:
1
Biscuit
Calories:
179
kcal
Carbohydrates:
18.4
g
Protein:
3.4
g
Fat:
11
g
Saturated Fat:
6.8
g
Cholesterol:
30
mg
Sodium:
327
mg
Potassium:
277
mg
Fiber:
1.6
g
Sugar:
10.3
g
Calcium:
147
mg
Tag @thepinkowlkitchen on Instagram! And don't forget to leave a ⭐️⭐️⭐️⭐️⭐️ rating and review!