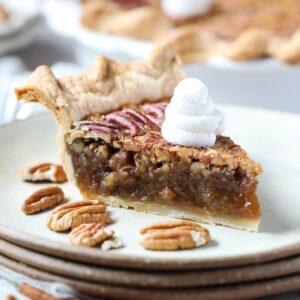 Classic Southern Pecan Pie Recipe
A classic Southern Pecan Pie recipe with a rich, decadent filling and lots of sweet, buttery pecans. Made with dark Karo syrup, brown sugar, butter, and vanilla, this pie has a robust flavor with an irresistible gooey texture!
Preheat your oven to 350°F.

If using frozen pie crust, set it on the counter or prepare your homemade or refrigerated pie crust by placing it in your pie dish and finishing the edges however you like. Set the crust aside while you prepare the filling.

Whisk together the brown sugar and granulated sugar in a medium mixing bowl until combined. Add the corn syrup, melted butter, eggs, vanilla, cinnamon, and salt to the bowl and whisk the ingredients together until well combined.

Pour the chopped pecans into the bowl with the filling and use a silicone spatula to mix the pecans into the filling until completely combined. Pour the filling into the prepared pie crust.

Line the outer edge of the pie with pecans halves for a decorative touch or leave the pie as is. Bake the pecan pie in the preheated oven for 50 to 60 minutes, or until the center is slightly puffed and jiggles slightly when rocked back and forth and the edges are set.

Allow the pie to cool completely before slicing. Enjoy pecan pie chilled or at room temperature.
Be sure to use a deep dish pie crust if using frozen.
Pecan pie can be made with light corn syrup instead of dark for a lighter, more vanilla-like flavor.
Pecan pie is done when the top jiggles slightly when given a gentle shake. To check your pie for doneness, grab the pie on each side with gloved hands and gently shake the pie back and forth.
If the center appears loose under the top and moves like a wave, the pie is not quite done. If the center just slightly jiggles like jello and the edges are set, your pie can be taken out of the oven.
If you notice that the top or crust is browning too quickly, loosely cover the pecan pie with foil and continue to bake. You do not want burnt or charred pecans on top of your pie. They will completely ruin the flavor.
Leftover pecan pie can be stored in the refrigerator for up to 5 days.
Serving:
1
slice
Calories:
388
kcal
Carbohydrates:
59.8
g
Protein:
3.4
g
Fat:
16.7
g
Saturated Fat:
5.3
g
Cholesterol:
77
mg
Sodium:
277
mg
Potassium:
79
mg
Fiber:
0.8
g
Sugar:
32.6
g
Calcium:
27
mg
Iron:
1
mg
Tag @thepinkowlkitchen on Instagram! And don't forget to leave a ⭐️⭐️⭐️⭐️⭐️ rating and review!