A spicy, flavorful seasoning blend that you can use on everything, including chicken, fish, shrimp, beef, and vegetables! This seasoning is made with a combination of peppers, spices, and herbs and livens up any recipe.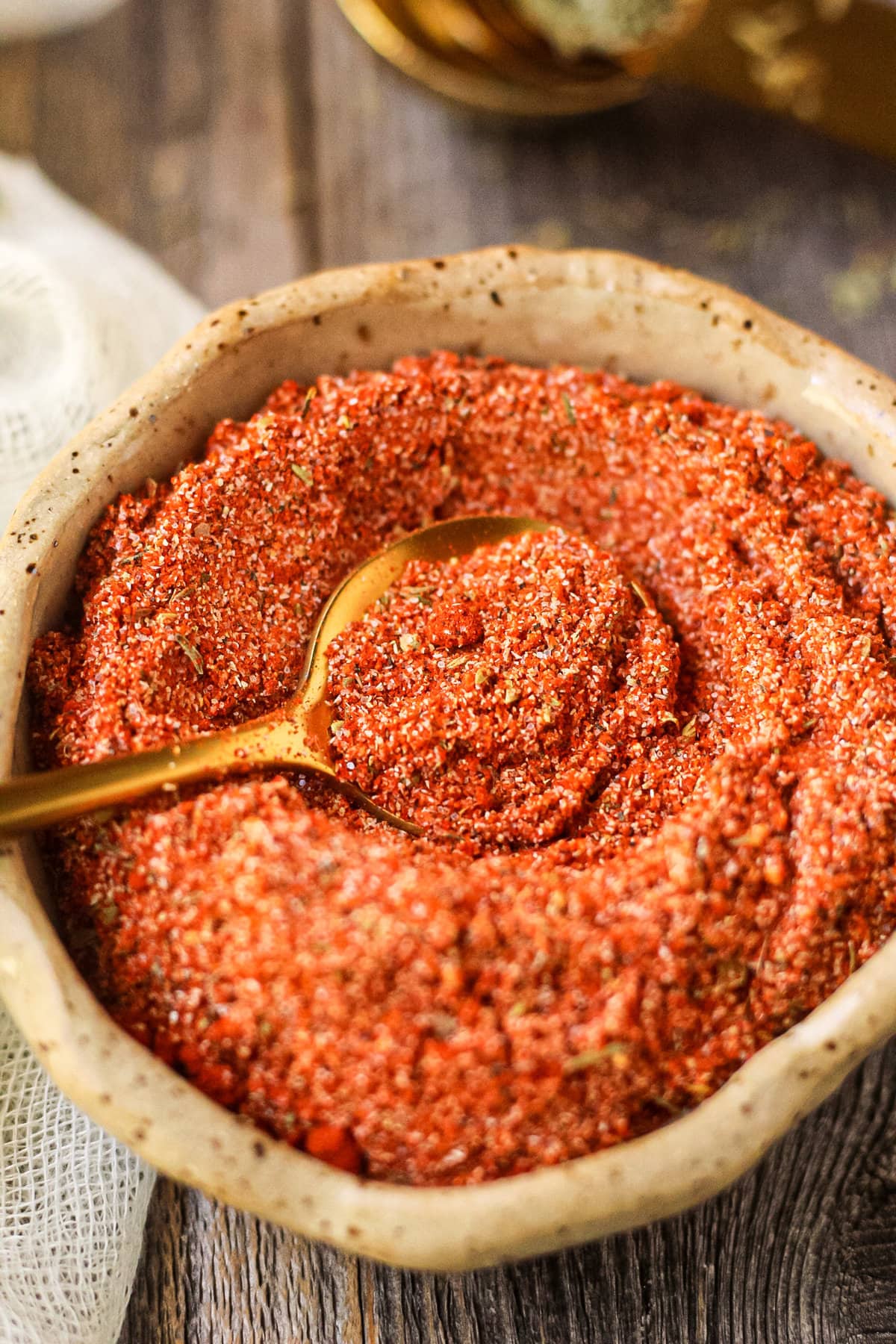 Take it from a Southern girl who is obsessed with Cajun and Creole cuisine, you NEED this homemade seasoning blend in your spice collection! I was born and raised in Jackson, Mississippi, which is only three hours outside of New Orleans, so let's just say I know a thing or two about Cajun cooking. Add some extra spice and flavor to all of your favorite recipes with this blackening seasoning!
Ingredients You Need to Make This Seasoning
Smoked paprika. You can also use sweet paprika, but I love the smoky flavor that the smoked paprika adds to the seasoning. Paprika can range in flavor from mild to hot depending on the peppers used to make it. Here in the US, paprika is usually on the milder side.
Cayenne pepper. Cayenne is a spicy pepper and adds a good amount of heat to this blackening seasoning.
Onion powder. This spice adds subtle notes of onion flavor to the seasoning.
Garlic powder. Garlic makes everything taste better and this blackening seasoning is no exception!
Dried mustard. Also known as mustard powder, this spice adds very subtle savory undertones to the seasoning and really elevates the flavor once the seasoning mixes with oils and fats during the cooking process.
Dried thyme. This herb adds floral, woodsy, and grassy notes to the seasoning.
Dried oregano. This herb adds a bold, earthy, and slightly bitter flavor.
Black pepper. This spice adds a little bit of heat, freshness, and piney notes to the seasoning.
Salt. A small amount of salt really brings out the flavors of all the other ingredients and brings everything together.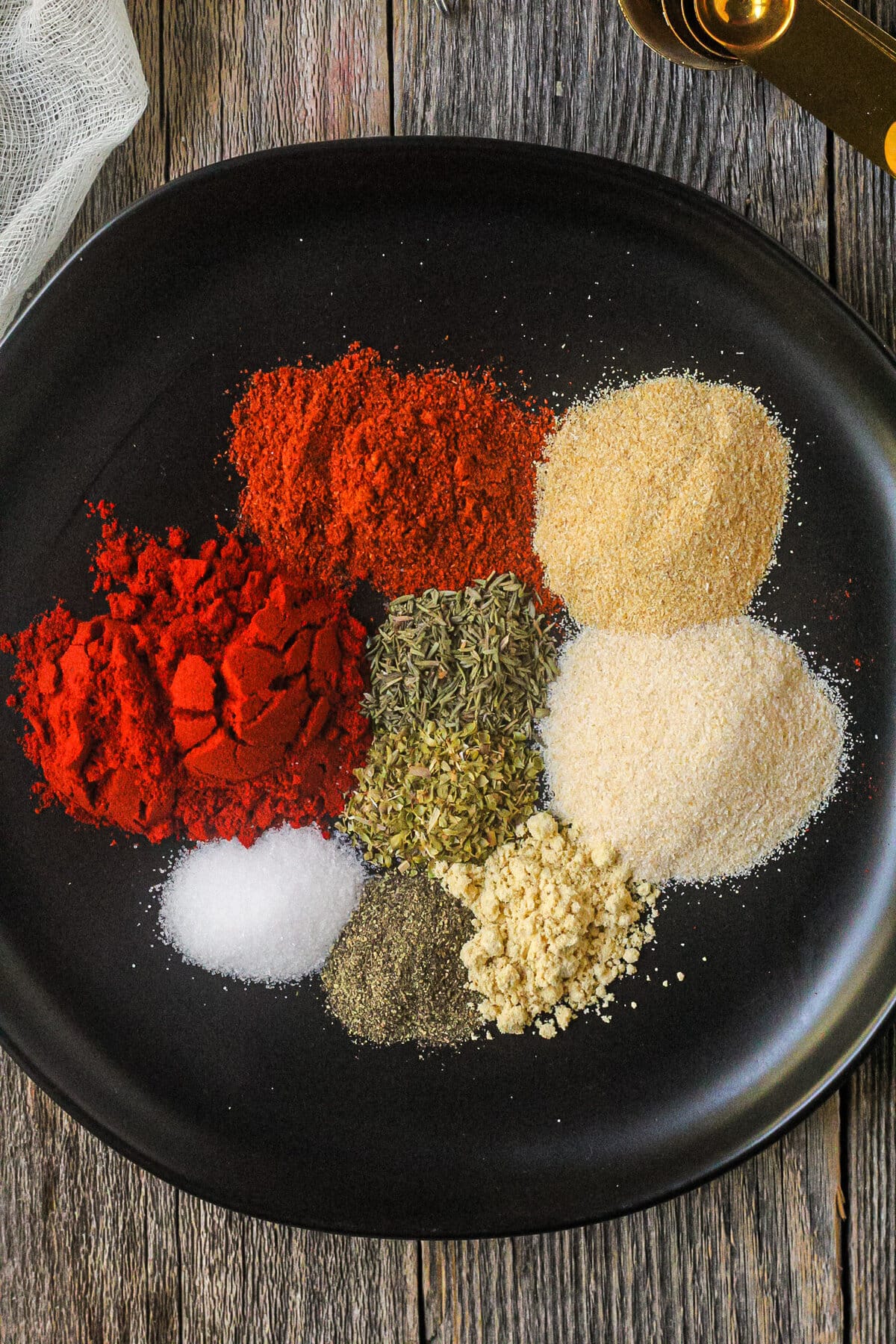 How to Make and Store This Seasoning
To make this blackening seasoning, just mix all of the spices together with a fork until combined and store in an airtight container. If you use fresh spices in this seasoning, it will last up to a year but will begin to lose potency after about 3 months.
I recommend making smaller batches at a time that you know you will use within a few months. This recipe makes the perfect amount to last 1-2 months for me and I use it in everything!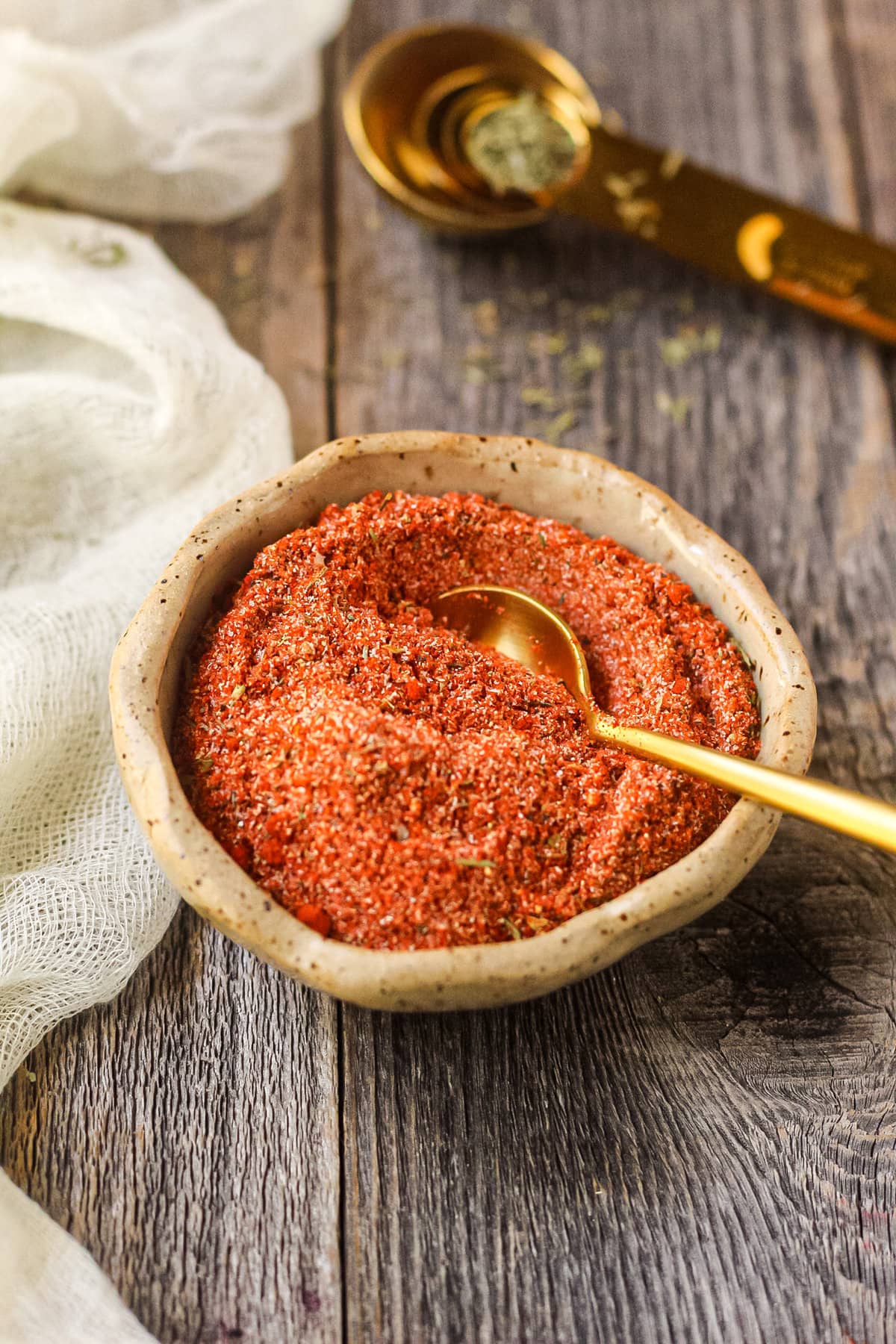 What Is Blackening Seasoning?
Blackening seasoning, also referred to as "blackened seasoning", is a peppery, spicy, herby seasoning used to blacken meats and seafood and to flavor to Cajun and Creole-inspired recipes.
Foods that you typically see offered "blackened" on menus are fish, chicken, and shrimp. You can also use this seasoning in place of Cajun and Creole seasonings, although there are slight differences in each.
How To Blacken Foods
Meat and seafood are blackened by dipping the food in butter, coating it in a blackening seasoning blend such as this one, and cooking it in a very hot skillet, typically cast-iron, until a characteristic dark crust forms on the outside.
Some recipes for blackened foods do not call for dipping the food in butter but instead cooking the seasoned food in butter in the skillet. My favorite skillet for blackening foods is this Lodge Cast-Iron Skillet!
What Is The Difference Between Blackening Seasoning and Cajun Seasoning?
While Cajun, Creole, and blackening seasonings are very similar, Cajun seasoning tends to be a bit spicier than blackening seasoning and not as herby. Blackening seasoning is a great "middle-of-the-road" seasoning blend if you're looking to add Cajun flavor without an excessive amount of heat.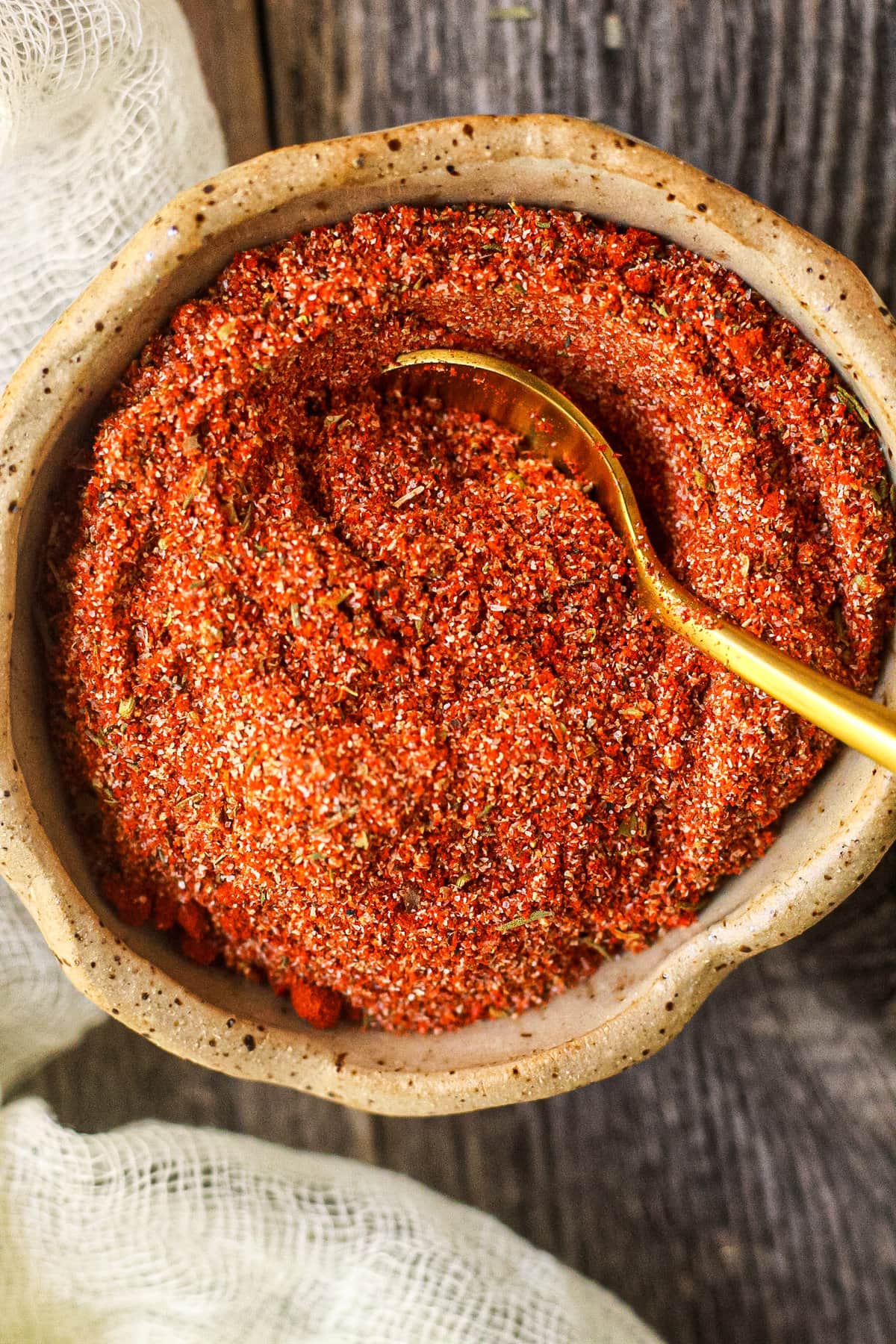 Recommended Tools for This Recipe
Use This Blackening Seasoning in These Recipes!
📖 Recipe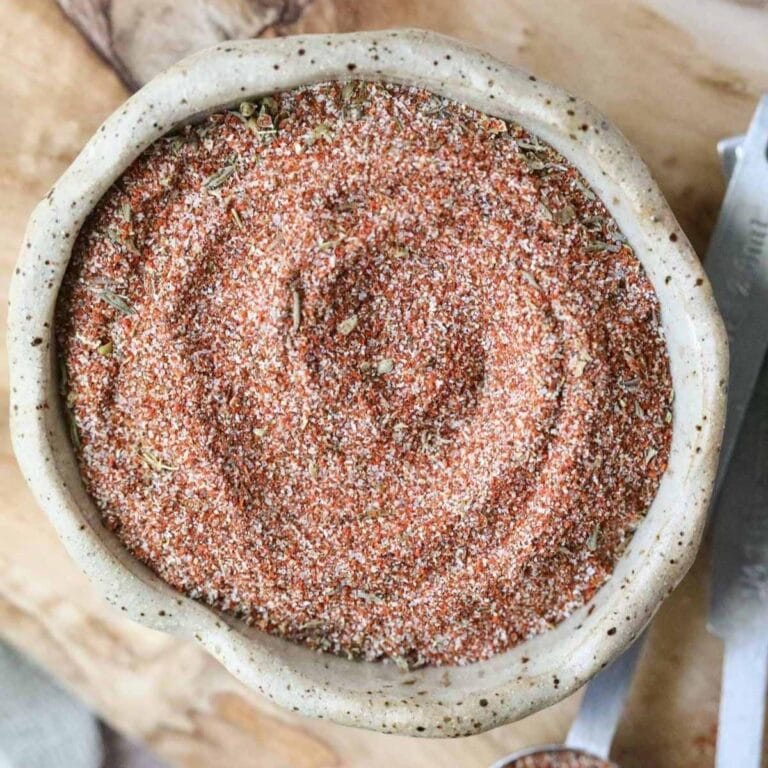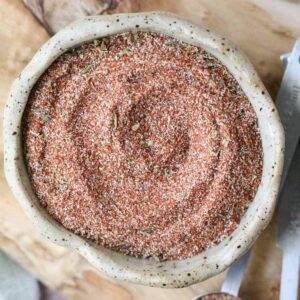 Homemade Cajun Seasoning
This homemade Cajun Seasoning is bold, spicy, and savory and ready to take any dish from bland to bursting with flavor. Use cajun seasoning to add flavor to fish, chicken, vegetables, pasta, and more!
Instructions
To make this Cajun seasoning, mix all the spices together in a small bowl with a fork or small whisk until combined and store in an airtight spice container.
Notes
If you use fresh spices in this seasoning, it will last up to a year but will begin to lose potency after about 3 months.
Nutrition
Serving:
0.25
teaspoon
Calories:
2
kcal
Carbohydrates:
0.4
g
Fat:
0.1
g
Sodium:
35
mg
Sugar:
0.1
g
Calcium:
2
mg
Tried this recipe?
Tag @thepinkowlkitchen on Instagram! And don't forget to leave a ⭐️⭐️⭐️⭐️⭐️ rating and review!