Ripe, Fresh California Avocados are blended with frozen pineapples, banana, fresh citrus and herbs in this creamy and refreshing Tropical Avocado Smoothie! This blog post is sponsored by the California Avocado Commission. All opinions are my own.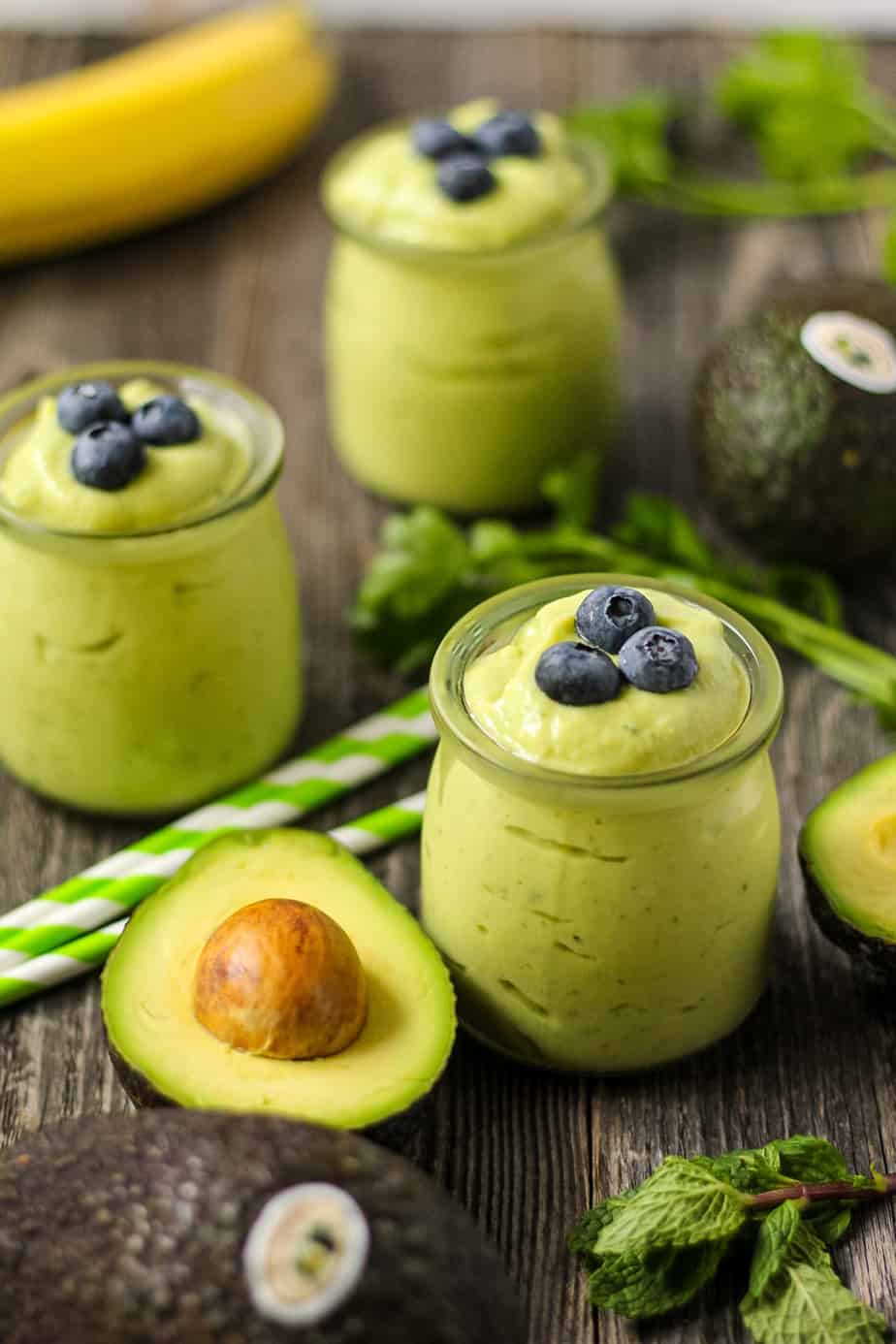 If adding avocado to a smoothie frightens you a little bit, then you're in the right place because I'm about to change your world! You won't believe how light, refreshing and bright the flavors in this smoothie are.
This Tropical Avocado Smoothie makes the perfect healthy snack or breakfast - and don't worry, I'll answer all (or most) of the questions that are probably buzzing through your head. But first, a little bit about California Avocados.
Jump to:
How To Make this Tropical Avocado Smoothie
Slice avocados in half, remove the pit, and scoop the flesh into a countertop blender. Add frozen pineapple, banana, mint leaves, parsley, lime zest, lime juice, honey, and milk to the blender and pulse until smooth.
You may add more milk if you'd like your smoothie a bit thinner. I prefer mine on the thicker side and ¼ cup is perfect for a thick consistency. You may also add more honey to adjust the sweetness level if you prefer.
This tropical avocado smoothie has the best flavor and texture when served right away. You may store extra smoothie in a sealed container in the fridge, but you may need to give it a good stir when ready to drink. I'd say these avocado smoothies should be kept for no longer than a day.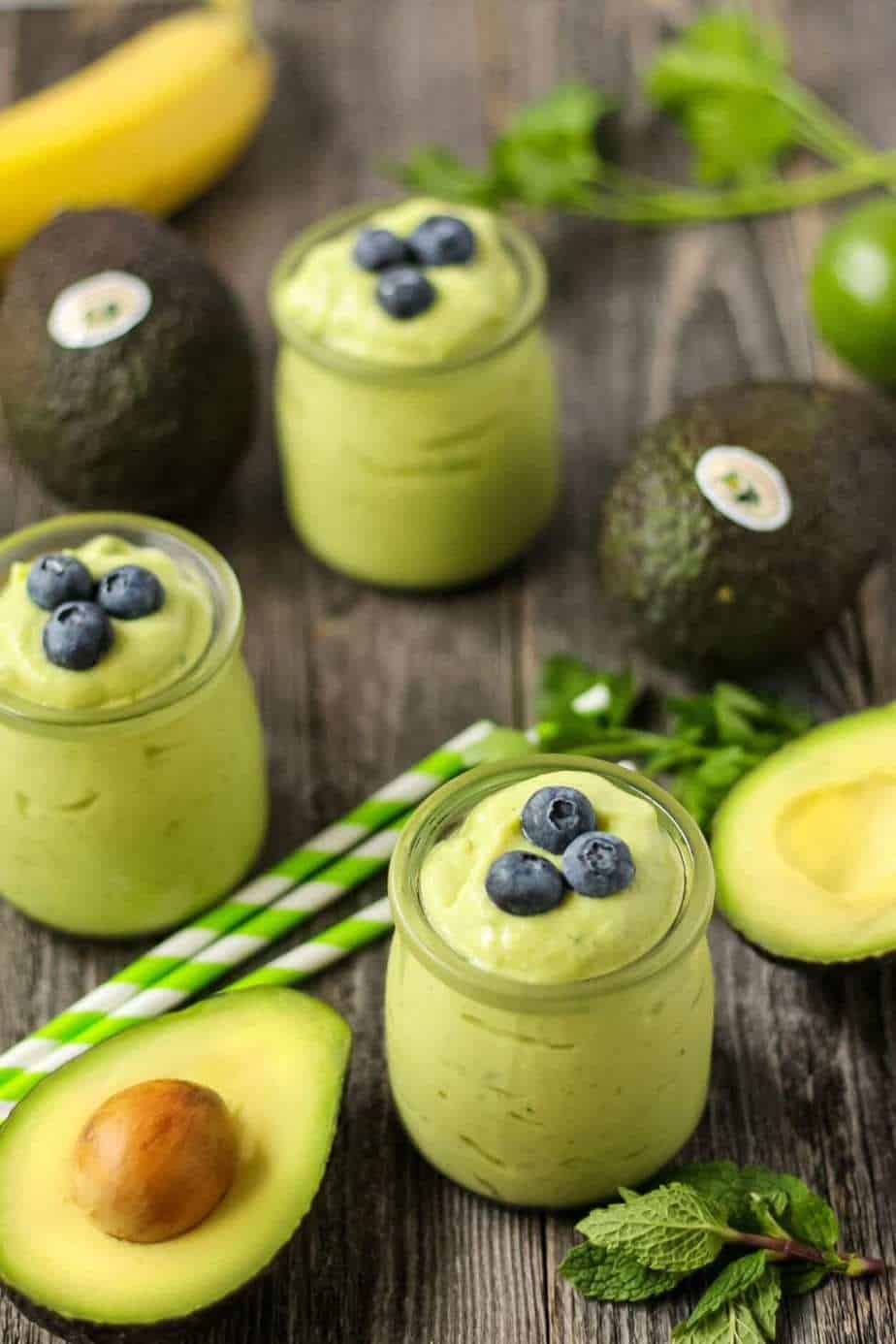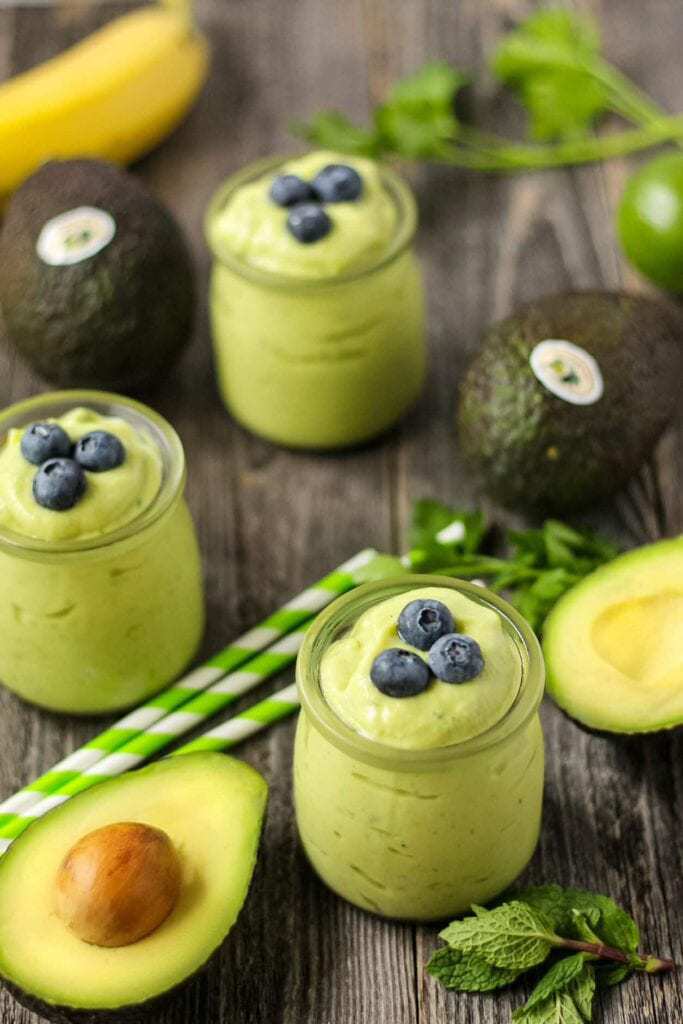 Why California Avocados?
California Avocados are grown right here in the U.S. Since they are grown close to home, California Avocados go from tree to table in just a few days.
Climate is everything when it comes to Fresh California Avocados. Fertile, sun-kissed soil and cool California breezes help create the ideal climate to produce world-class, premium avocados.
The California Avocado season is from Spring through Summer. It takes 14 to 18 months to grow a single California Avocado and one California Avocado tree can produce up to 200 avocados per season.
To spot Fresh California Avocados in your area, always look for a California label like the one on the piece of fruit below!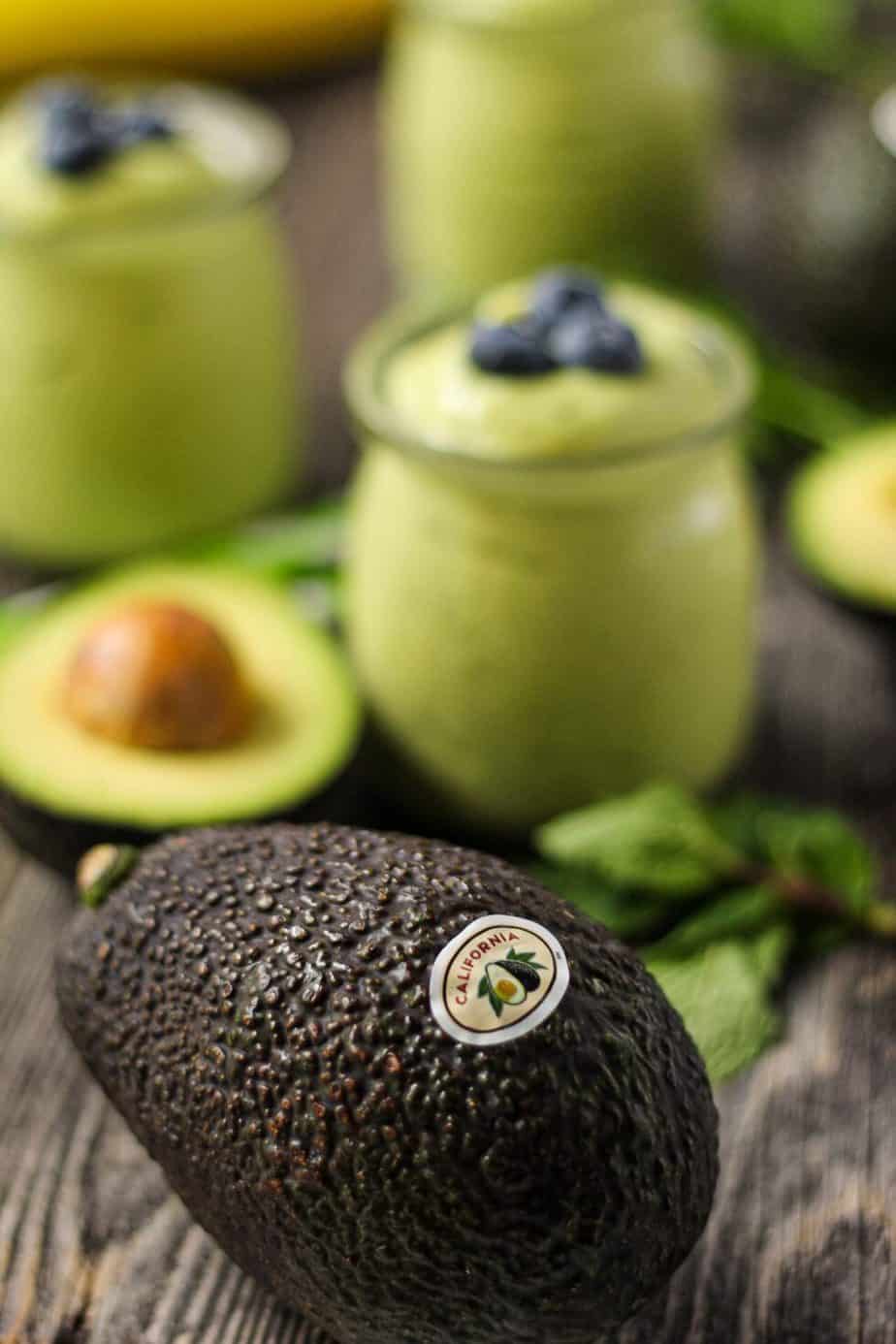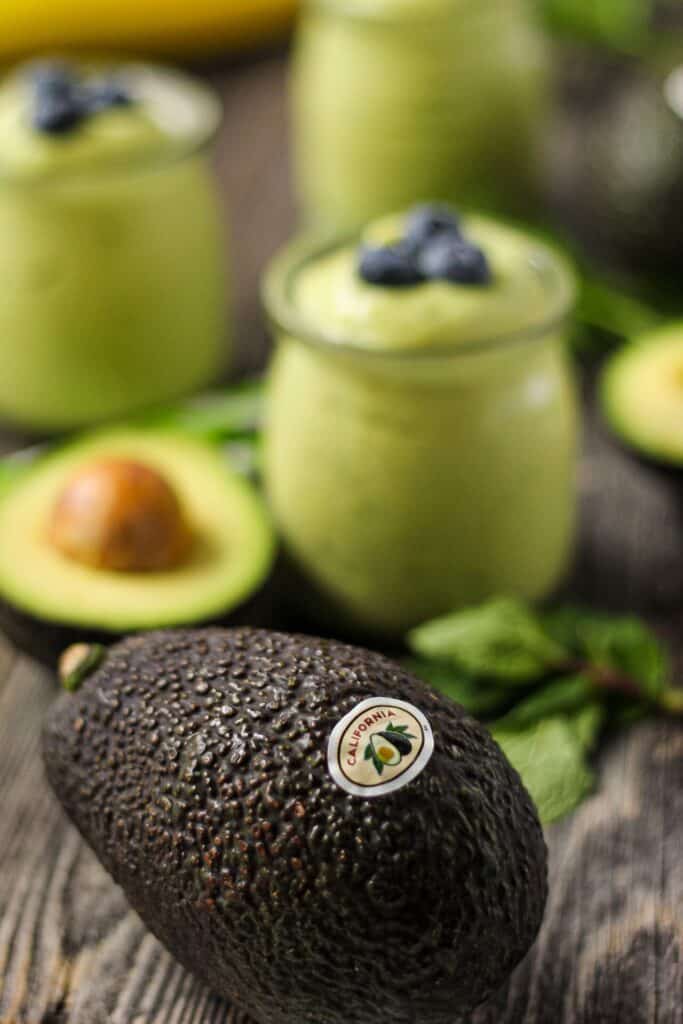 Now that you're caught up on Fresh California Avocados, let's dive into this Tropical Avocado Smoothie Recipe!
Can You Taste the Avocado in this Smoothie?
Whenever I stumble across a sweet or fruity avocado recipe, this is my first question too! Although gorgeous, ripe Fresh California Avocados are the star of this recipe, avocado is not a prominent flavor at all in these smoothies. I would say that the vast majority of people probably cannot tell that there is avocado in these smoothies at all.
The color and the creaminess might give some people an inkling that avocado is an ingredient, and if you have extremely sophisticated taste buds you may pick up some avocado notes.
The sweet pineapple and banana, along with the fresh citrus and herbs are the flavors that stand out in this avocado smoothie.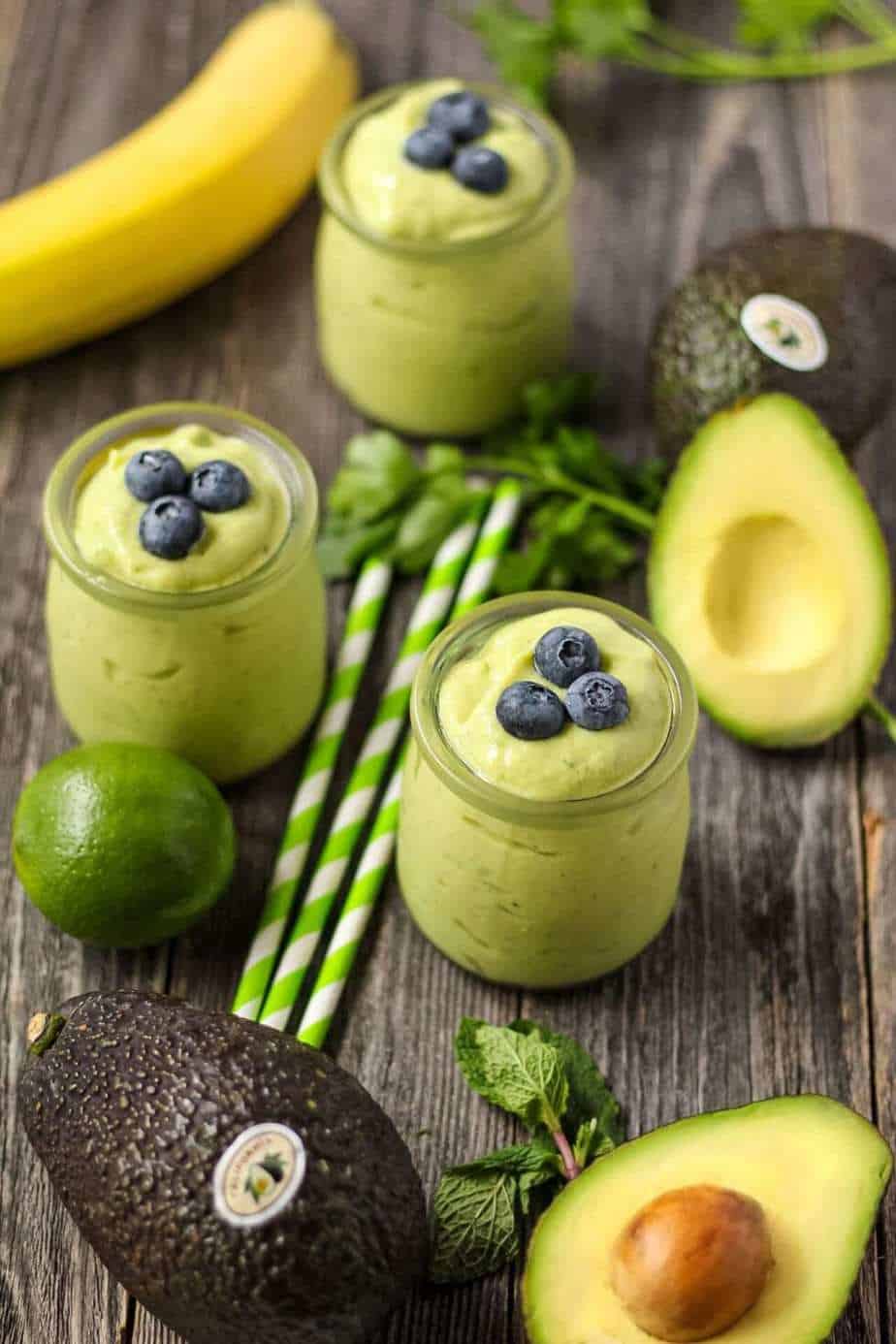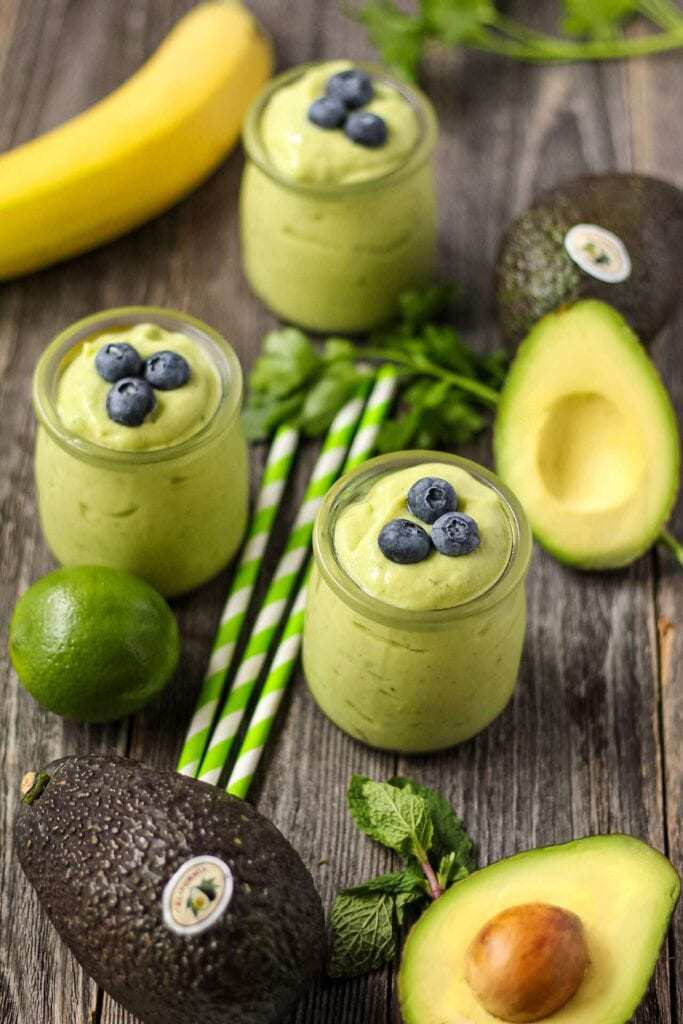 Can I Use Fresh Pineapple Instead of Frozen?
The short answer is yes. However, having tested this recipe with both fresh and frozen pineapple, I much more prefer the flavor and texture of the frozen pineapple. The frozen pineapple seems to give it more of a refreshing smoothie feel versus a shake feel that I got from the fresh pineapple.
Your tastes may be different from mine and I encourage you to try this smoothie recipe using both frozen and fresh pineapple to see which is your favorite!
Can I Add Other Fruit?
Heck yeah! I chose my fruit based on the flavor and color I wanted to achieve. I knew the pineapple, banana, lime and fresh herbs would give me a beautiful bright green color when blended with the avocados.
Feel free to add any fruit you like. The possibilities really are as endless as your imagination. Berries, mango, peach, apple, or cherries all blend well in an avocado smoothie.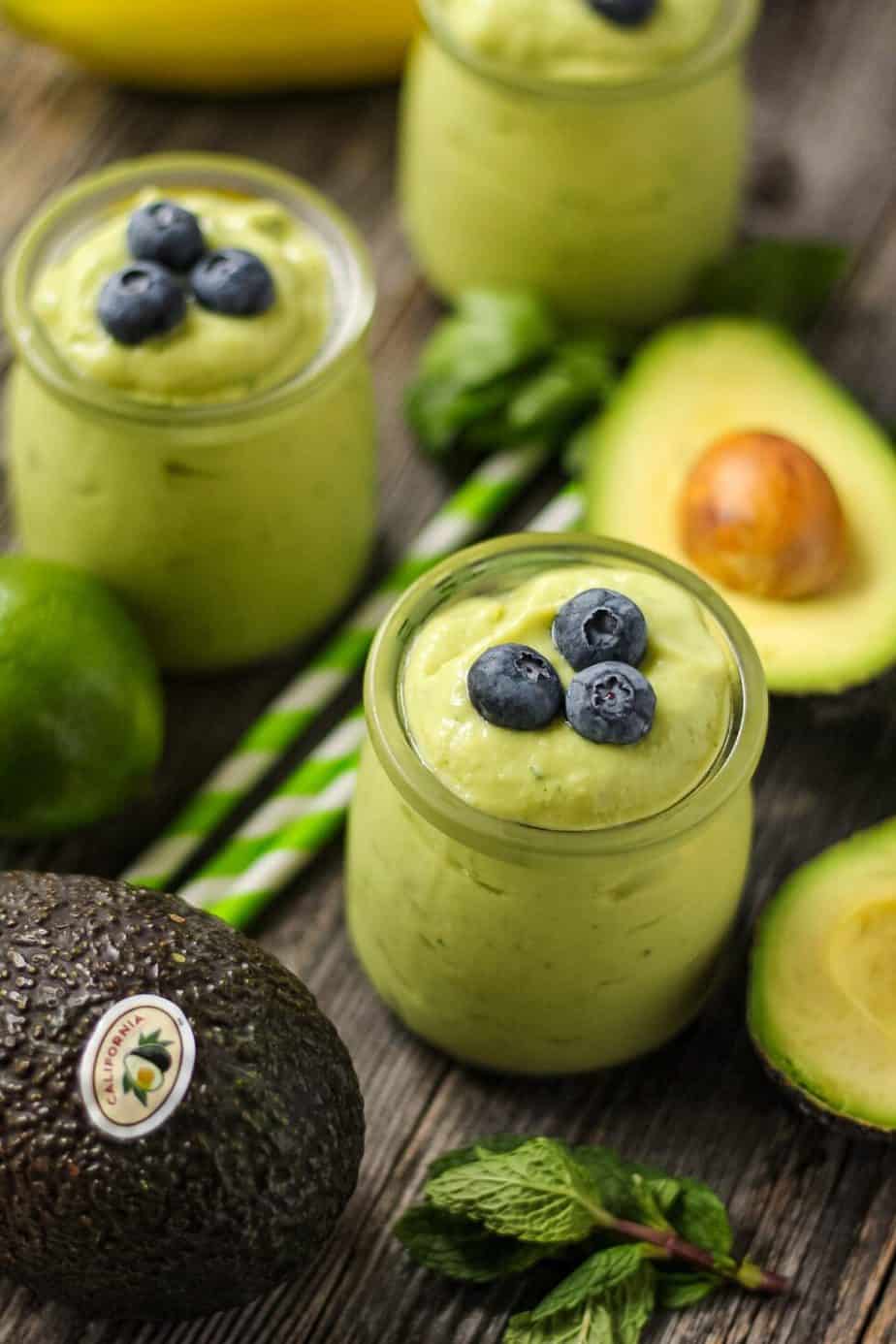 How Do I Make this Avocado Smoothie Vegan?
If you are vegan, simply substitute maple syrup for the honey in this smoothie. Depending on your tastes, you may want to omit the additional sweetener altogether as the pineapple and banana provide a good bit of sweetness.
You may also use coconut, cashew, soy or oat milk in this tropical avocado smoothie instead of the almond milk if you prefer.
How Do I Choose the Right Avocados for this Smoothie?
You want to be sure and use ripe avocados. If you have access to Fresh California Avocados in your area, I strongly encourage you to use them in this smoothie recipe as they have the most incredible flavor and the quality is undeniable!
To tell if the fruit is ripe, gently squeeze the fruit. It's ripe if you will feel it give a little bit to the pressure but it will not be mushy. If the avocado is very hard just wait a couple of days and check again.
Be sure and let me know how your creations turn out in the comments section below!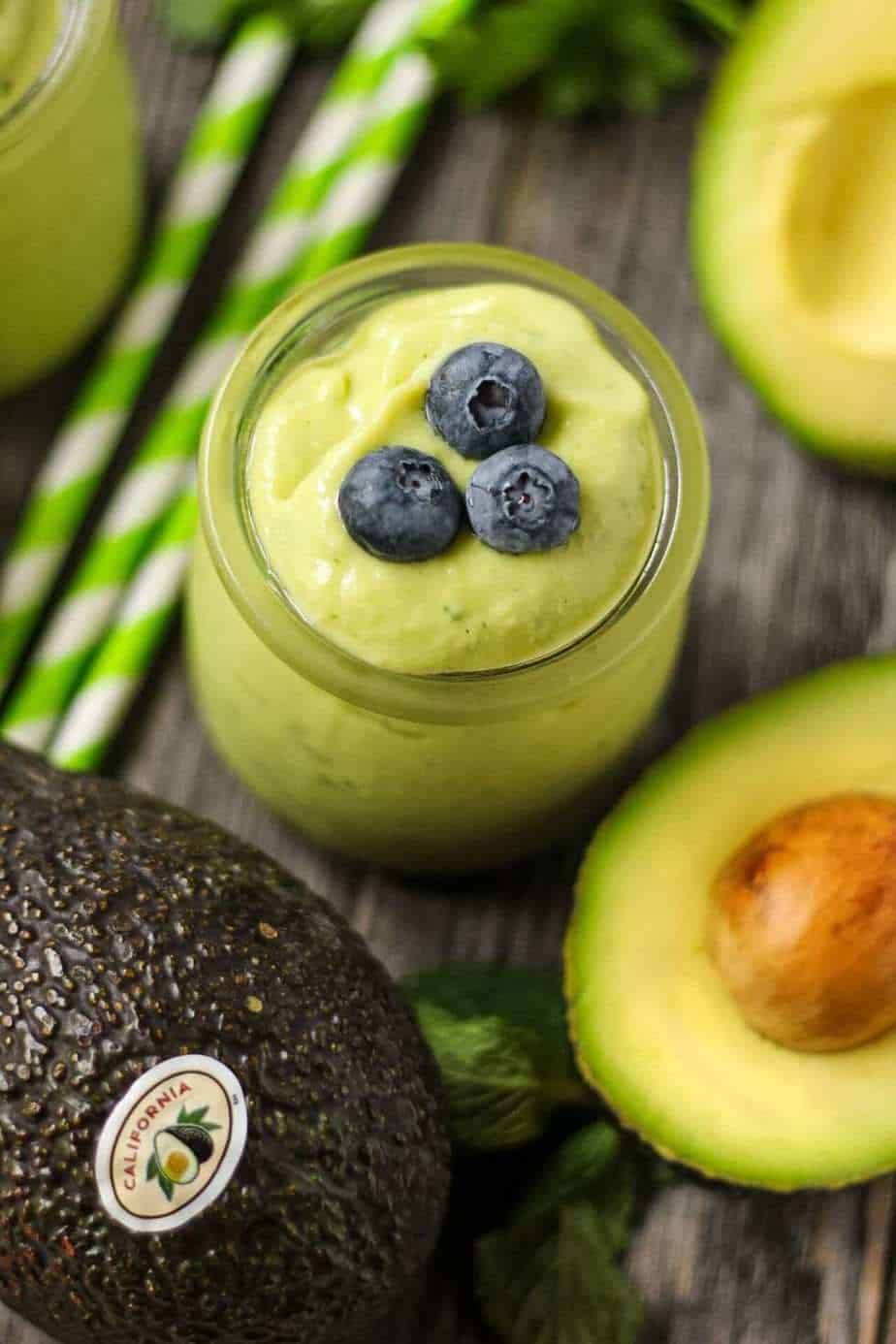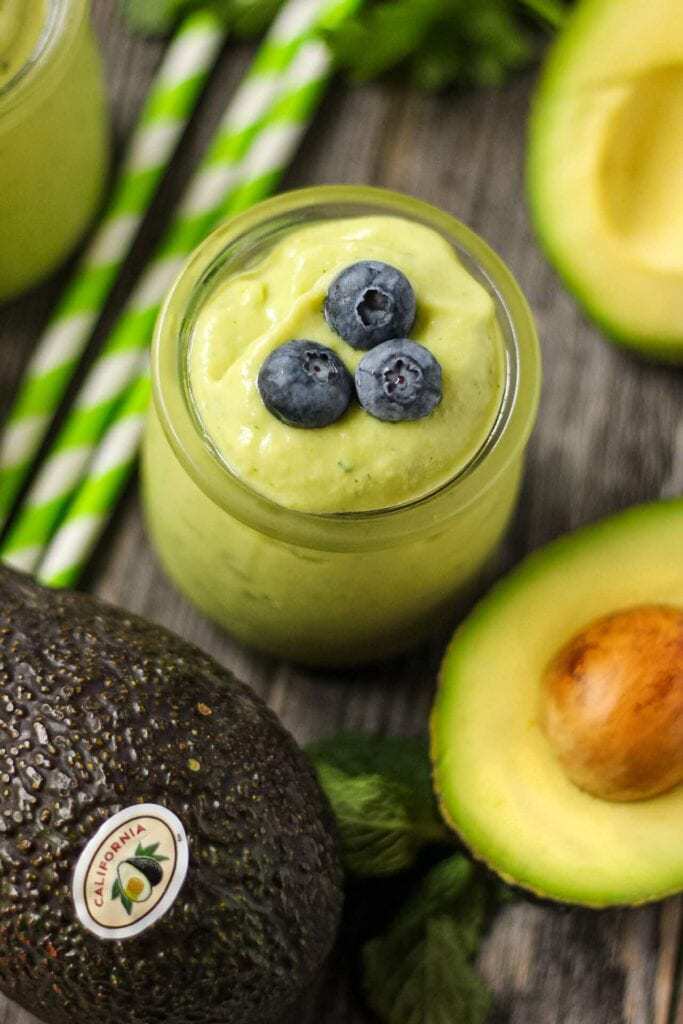 📖 Recipe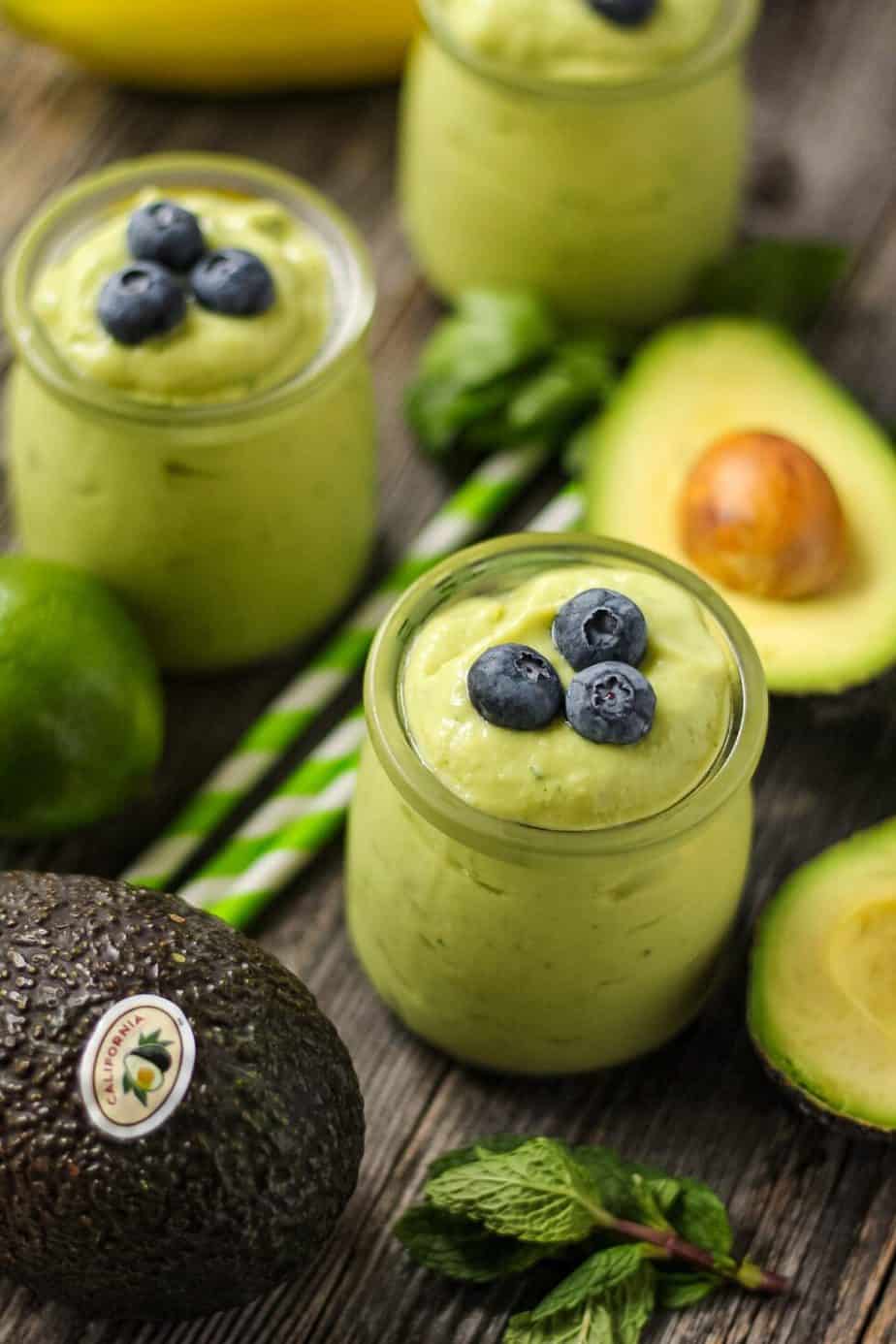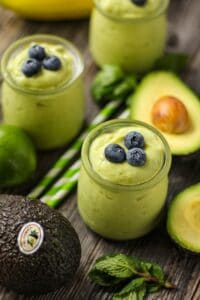 Tropical Avocado Smoothie
Ripe, Fresh California Avocados are blended with sweet frozen pineapple, along with fresh banana, citrus and herbs in this bright, refreshing smoothie!
Ingredients
2

ripe Fresh California Avocados

1

10 oz

bag frozen pineapple chunks

1

medium banana

removed from peel

zest and juice of one medium lime

1-2

sprigs fresh parsley

leaves and stem

4-5

fresh mint leaves

1

tablespoon

honey

¼

cup

unsweetened almond milk

or milk of choice
Instructions
Slice avocados in half, carefully remove the pits and scoop flesh into the blender.

Add frozen pineapple, banana, lime zest, lime juice, parsley, mint leaves, honey and almond milk. Pulse in blender until smooth.

Pour smoothie into four cups. Top with fresh berries or fruit if desired and enjoy.
Notes
You can add additional honey and/or milk if desired to reach your preferred sweetness level and consistency.
Nutrition
Serving:
1
, 8 oz smoothie
Calories:
251
kcal
Carbohydrates:
34.9
g
Protein:
2.8
g
Fat:
13.8
g
Saturated Fat:
1.9
g
Sodium:
23
mg
Potassium:
685
mg
Fiber:
8.6
g
Sugar:
21.4
g
Calcium:
63
mg
Iron:
2
mg
Tried this recipe?
Tag @thepinkowlkitchen on Instagram! And don't forget to leave a ⭐️⭐️⭐️⭐️⭐️ rating and review!